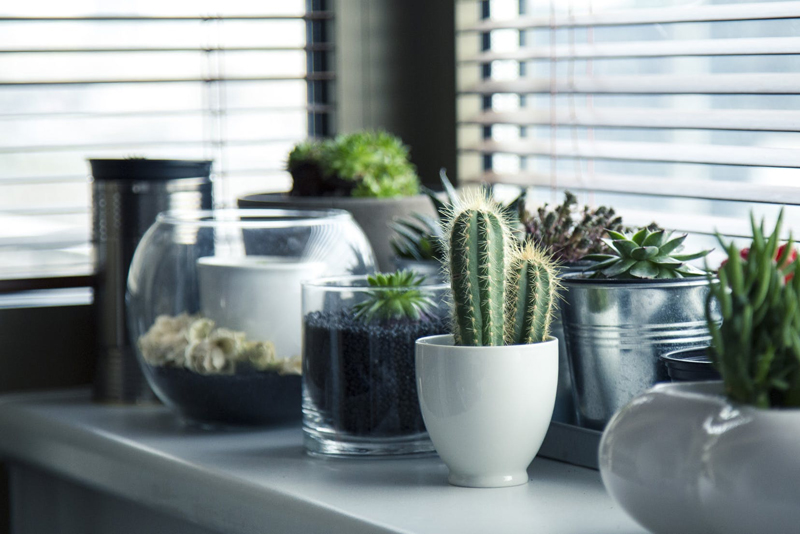 Mimosa pudica
is a plant that goes by several different "common" names, including Sensitive Plant, Shame Plant, or Touch-me-not. Sensitive Plant is very popular in children's gardens because the plant responds to you. If you run your finger down the length of one of the leaves, the leaf will fold itself up. If the stimulus is forceful enough, the whole plant will seemingly collapse. Sensitive Plant will respond similarly for the wind, rain and sun, folding up when the light becomes dim. Even heat will cause this amazing little plant to shy away from you.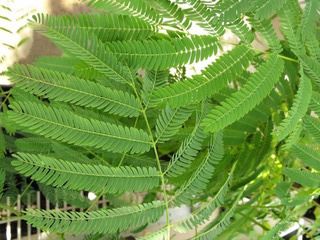 Sensitive Plant is native to Brazil, but can now be found all over the world as a weed, or bringing a smile of wonder to children of all ages in cultivated gardens. The leaves grow in clusters of three and each leaf in composed of many leaflets situated directly across from one another. These plants are known to grow to be many feet across, spreading out across the ground as they go, but tend to be more responsive as younger plants. Sensitive Plant has the added bonus of flowering. The flowers are purple to pink puff balls that really give this shy plant an extra dash of personality.
Bright, nearly full sun is recommended for healthy growth. When kept as a houseplant, Sensitive Plant will be happy in the sunniest window available. If you move it outdoors during nice weather be sure that it will be protected from the midday sun.
Even moisture is best and can be provided if you water once the potting mix has dried on the surface. Fertilizer can be added to the water or you can use a slow-release type. An all-purpose fertilizer will work well. Look for one that contains all three macronutrients as well as micronutrients to provide balanced nutrition.
Propagation of Sensitive Plant is generally done from seed, and as I experimented with this plant on my own, I can see why. What actually happens when the leaves close up is a loss of turgor pressure. This is called a seismonastic movement. I have attempted to take a cutting from this plant and grow it using a rooting hormone. As could be expected, the entire cutting went completely limp, and after several days it finally appears that it might recover. I wondered where the moisture inside the plant could have gone when it lost its turgidity so rapidly and whether there was enough moisture left inside for it to grow a new root system.
I am definitely a fan of Sensitive Plant, and I'm cheering on the cutting trying to survive on my window sill. I think it makes an excellent plant for introducing people to the world of plants. Who can help but be fascinated by such a unique gem of a plant, and hope perhaps for a little Sensitive Plant of their own?
This site needs an editor - click to learn more!

You Should Also Read:
Summering Houseplants Outdoors
Chenille Plant
Houseplants Newsletter




Related Articles
Editor's Picks Articles
Top Ten Articles
Previous Features
Site Map





Content copyright © 2022 by Lisa Beth Voldeck. All rights reserved.
This content was written by Lisa Beth Voldeck. If you wish to use this content in any manner, you need written permission. Contact BellaOnline Administration for details.