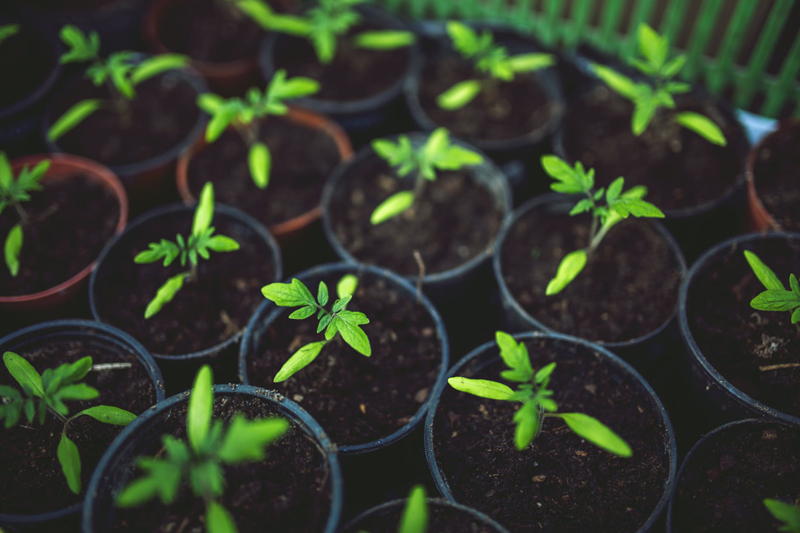 Regardless of whether or not it's a little shade or a lot, very few landscapes are immune from its presence. And for gardeners, getting plants to grow in shade oftentimes creates more anxiety than success. Although there are many plants that thrive in shady areas, offering you a wide variety of design options that will fit your needs, few plants have the flexibility of bulbs. Bulbs are easy to grow and naturally adapt to challenging conditions. While we are often led to believe that most flowering bulbs prefer sun, many bulbs do extremely well in shade. Some of the most beautiful bulbs thrive in shady locations, brightening up the gloominess that shade is well known for. In fact, many bulb species originate from shady, mountainous regions of Eastern Europe, making them ideal candidates for similar situations within the landscape of your home and garden.

Favorites for planting in these conditions include the wonderfully fragrant Lily-of-the-Valley (Convallaria majalis). Lily-of-the-Valley has clusters of small, white or pink, bell-shaped flowers that hang from a strong stalk. The most outstanding feature of this bulb is its sweet fragrance; however, it does best when planted in partial shade. Fragrant bluebells are another great bulb alternative for shade gardeners, especially English Bluebells (Hyacinthoides non-scripta), producing a lovely shade of violet-blue. Each plant can produce as many as a hundred bell-shaped flowers, which have a honey-like fragrance. These plants naturalize quite well in shade but they are also tolerant of wet soils, another bonus for those moist areas of the garden.

Trout lilies (Erythronium) benefit from partial shade, thriving beautifully in woodland settings. Blooming in spring in shades of yellow, white, pink, or purple, their lily-like flowers hover above green and purple-mottled, ground-hugging foliage. Trout lilies make good specimens for naturalizing in shady areas. Cyclamens are commonly grown for their delightfully arching flowers, in shades of white, pink, red, or purple, depending on the species. Some species flower early in the year, while others wait until late summer; however, the majority of cyclamen species provide an interesting winter groundcover in shady gardens.

Siberian Squill (Scilla siberica), with intense blue flowers, is not only lovely, but this bulb is extremely hardy. It is also one of the best bulbs for naturalizing. While most Squill species can be somewhat aggressive in the garden, shade gardeners should welcome their ground covering capabilities as well as their brilliant color. Blooming weeks before crocuses, the Garden Snowdrop (Galanthus nivalis), when planted in drifts, can make a dramatic effect in some of the darkest areas of the garden. The stunning white blooms resemble drops of milk hanging from its stem. Not only does this remarkable little bulb add interest to shady locations, but deer and rodents also avoid the Garden Snowdrop.

Few bulbs are as lovely as the Anemone, especially the more commonly known, Grecian Windflower. This sun or shade lover adds instant color to drab areas. Planting in groups will provide a greater effect, producing clumps of short, compact daisy-like blooms. Blooming in spring, Grecian Windflowers will color the shade garden with splashes of pink, blue, mauve, and fuchsia. Another consideration here is the Wood anemone (Anemone nemerosa). While it's not quite as showy as Grecian Windflowers, it offers pastel shades, adding subtle colors in the garden rather than jewel tones. Unbeknownst to many, the Crown imperial (Fritillaria imperialis) has a well-kept secret. This beautiful bulb enjoys the dappled shade cast from a high canopy of trees. With tufts of foliage on top and yellow or orange-red flowers beneath, tucked into a shady bed this early spring bloomer will add both striking color and interest.

Other favorites include caladiums, tuberous begonias, lilies, grape hyacinths. Mix them in with a variety of woodland plants such as bleeding heart, hosta, fern, and hardy ageratum for a dazzling display of color and texture. If you're one of those gardeners who dread the thought of fighting with shade, these shade-loving bulbs make ideal choices for solving these troubling areas of the garden.


Related Articles
Editor's Picks Articles
Top Ten Articles
Previous Features
Site Map





Content copyright © 2019 by Nikki Phipps. All rights reserved.
This content was written by Nikki Phipps. If you wish to use this content in any manner, you need written permission. Contact Gail Delaney for details.