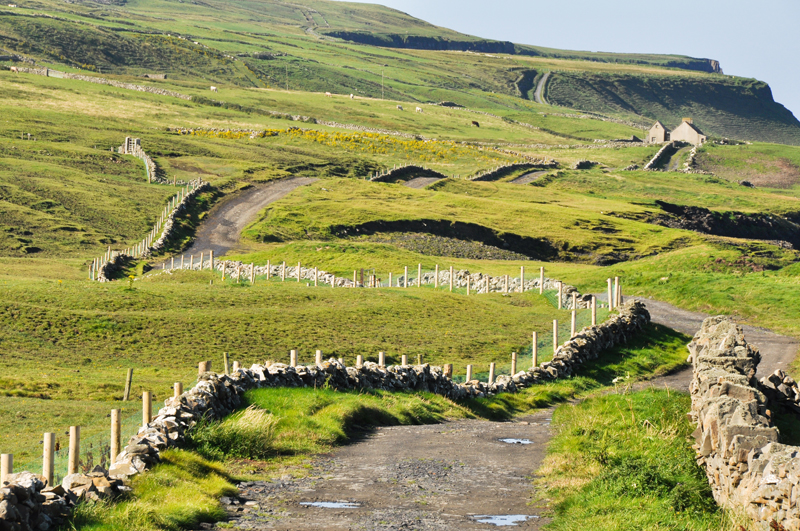 Blarney Castle
"There is a stone that whoever kisses,
Oh! he never misses to grow eloquent
'Tis he may clamber to a lady's chamber,
Or become a member of parliament."
Francis Sylvester Mahony
Blarney castle, is as mysterious as it is famous. One of the most popular buildings in all of Ireland, and known the world over for its " stone of eloquence".
The Castle is Located about four miles to the north-east of Cork City, and is a stop over for many tourist busses year around.
The stone which is embedded in the upper battlements of the castle is said to give the power of eloquence to those who kiss it.
To kiss the Stone, be prepared to make your way up a winding narrow staircase, and once on top you must bend over backward and lower yourself down with the help of a wonderful attendent. Now make your way down, let me warn you that if your feet are bigger than a size 8, you will be regreating the climb.. and really regreating the decent!
Trust Me!!
The story which no one can really put a date to is more than likely from the tale of Cormac MacDermot MacCarthy... The story goes that the stone was given to Cormac McCarthy by Robert the Bruce in 1314 in return for his support in the Battle of Bannockburn.
At the time Queen Elizabeth I wanted Irish chiefs to agree to occupy their own lands under title from her. Cormac Teige McCarthy, the Lord of Blarney, whose silvery tongue enabled him to stay on good terms with both sides, without committing himself to either. Caused the Queen to describe his talk as `All Blarney´.
Others believe the stone to be half of the Stone of Scone which originally belonged to Scotland.
Other Attractions
:
The Garden or Rock Close
is on a pre-historic Druids site, where the remains of huge dolmen (a megalithic tomb with a large flat stone laid on uprights), a sacrificial altar and a witches kitchen. You can also find Japanese bamboo trees, magnolias, Siberian dogwood and weeping willows within this mysterious garden, who knows you might even find yourself a fairy.
Blarney House and Gardens
Blarney House is situated south of Blarney Castle and was completed in 1874. The house is open to the public during the Summer months only. The house is surrounded by extensive lawns, shrubs, trees, and flower beds.
The Arboretum and woodland walks
There are numerous walks through the beautiful woodland grounds and around the winding River Martin. The arboretum is a colorful display of copper beach, ornamental pear, southern beech, nothafagus and evergreen oaks.
Tourist Office: Blarney Tourism Tel 381624
Blarney Castle


Related Articles
Editor's Picks Articles
Top Ten Articles
Previous Features
Site Map





Content copyright © 2022 by Mary Ellen Sweeney. All rights reserved.
This content was written by Mary Ellen Sweeney. If you wish to use this content in any manner, you need written permission. Contact Bee Smith for details.