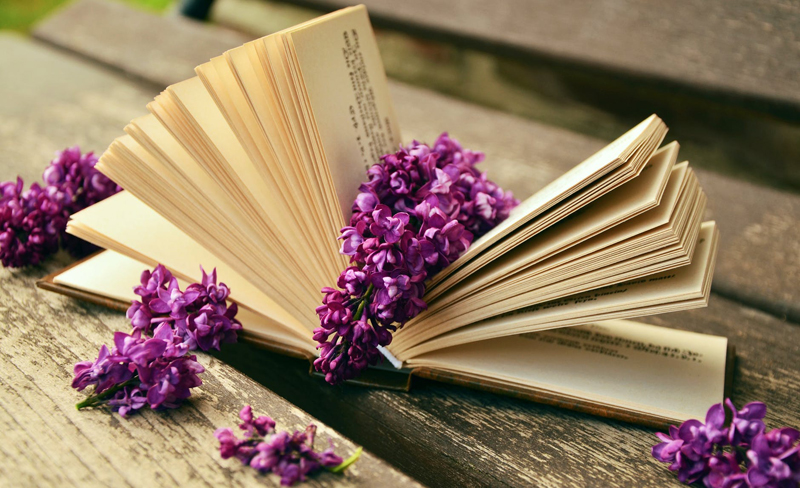 Born Mary Wollstonecraft Godwin, she was the daughter of feminist theoretician Mary Wollstonecraft (author of Vindication of the Rights of Women published 1792) and philosopher William Godwin (author of Enquiry Concerning Political Justice in 1793). Mary eloped at the age of 17 with Romantic Poet Percy Bysshe Shelley. Then at the age of 19 she wrote and published Frankenstein which is perhaps the most memorable and influential science fiction fantasy novel ever published.
After reading Frankenstein, one may wonder what could have influenced such a sad, haunting tale. A look at Mary Shelley's life may provide a hint. Her mother died shortly after giving birth to her. Mary's father fell into a deep depression. He eventually remarried when Mary was 4. Her new step mother didn't care for her and her sister Fanny. Mary's father was distant from her yet she idolized him.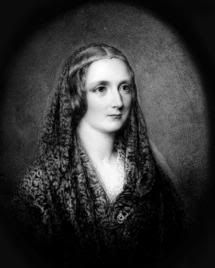 When Mary was 15, she was sent to Scotland to live with friends of the family. She became infatuated with Percy Shelley during a visit to London. Shortly after their marriage, Mary gave birth prematurely to a little girl. Her daughter only lived for 2 weeks. Mary was very emotionally distraught after this tragedy. Many of her journals reflected an obsession with death and resurrection which is a central theme of Frankenstein. She even wrote in a journal about a dream where she held her infant girl in her arms, warmed her by the heat of a fire and the baby came back to life. In 1816, Mary's half-sister Fanny and Percy's ex-wife committed suicide.
I have found it amusing that Frankenstein was written because Lord Byron challenged a group of friends to write a ghost story. During a gathering of friends, the group was telling stories of the supernatural by candlelight in Lord Byron's parlor. Mary Shelley could not find inspiration for a good ghost story until she had a dream. One night she dreamt of a student who built a machine to "awaken the hideous phantasm of a man."
Even after the publishing of her Frankenstein, Mary Shelley's life did not get any easier. Six months before she published Frankenstein she gave birth to her daughter Clara, but Clara passed away at six months old due to dysentery. A year and a half later in June of 1819, her 3 year old son William passed away from dysentery as well. She gave birth to son Percy Florence in November 1819 who was her only child to live well into adulthood. The last blow of misery occurred in the summer of 1822 when her husband Percy drowned with a friend after their boat flipped over. Mary had suffered a miscarriage just before the boating accident. She was cold to Percy and had parted ways with him. She never forgave herself for not making up with Percy before he passed away.
You'd think a life full of so much death and sadness, there would be no way to find a glimmer of creativity! She wrote 6 novels, essays, biographies, travel sketches, and notes to many of her husband's work. She lived a long life raising her son and never remarried because as she has been quoted in many places she wanted the name "Mary Shelley" on her tombstone.
* History of Six Weeks' Tour through a Part of France, Switzerland, Germany, and Holland, with Letters Descriptive of a Sail round the Lake of Geneva, and of the Glaciers of Chamouni (1817)
* Frankenstein; or, The Modern Prometheus (1818)
* Mathilda (1819)
* Valperga; or, The Life and Adventures of Castruccio, Prince of Lucca (1823)
* Posthumous Poems of Percy Bysshe Shelley (1824)
* The Last Man (1826)
* The Fortunes of Perkin Warbeck (1830)
* Lodore (1835)
* Falkner (1837)
* The Poetical Works of Percy Bysshe Shelley (1839)
* Contributions to Lives of the Most Eminent Literary and Scientific Men (1835–39), part of Lardner's Cabinet Cyclopaedia
* Rambles in Germany and Italy in 1840, 1842, and 1843 (1844)
Collections of Mary Shelley's papers are housed in Lord Abinger's Shelley Collection on deposit at the Bodleian Library, the New York Public Library (particularly The Carl H. Pforzheimer Collection of Shelley and His Circle), the Huntington Library, the British Library, and in the John Murray Collection.


Related Articles
Editor's Picks Articles
Top Ten Articles
Previous Features
Site Map



Follow @womenslitbella
Tweet





Content copyright © 2021 by Jeanette Stingley. All rights reserved.
This content was written by Jeanette Stingley. If you wish to use this content in any manner, you need written permission. Contact Jeanette Stingley for details.