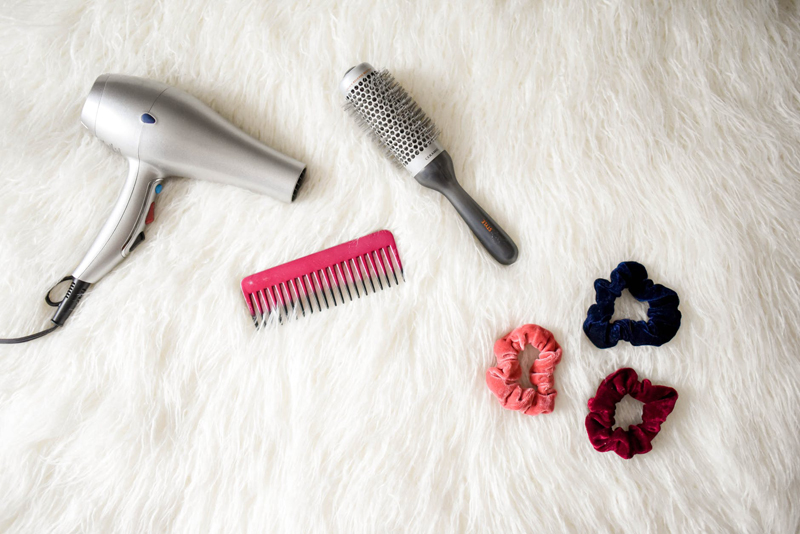 After you shampoo your hair do you have a plan for placing a part or do you let it fall where it will? Do you wonder where it should go? You may be interested to know that there are at least three theories useful in making the decision.
The Nose Theory

This theory is used by some hairdressers and states that everyone's nose angles to one side, either toward the left or the right.
It's true! Some are more pronounced than others, but look in the mirror or ask a friend to study your face.
Proponents of this method say that if your nose leans to the left, you should part your hair on the left and brush it to the right. Accordingly, if your nose is right leaning, part your hair on the right and brush it to the left.
By causing your hair to go the opposite way of your nose you will create a balance in your facial appearance.

In addition, a center part will draw attention or "point to" your nose. So if you have a large or unattractive nose, you will want to stay away from the center part.
The Eye Theory

Everyone has one eye that is prettier than the other.
In this method, the part is placed over the center of your prettier eye. This will accent the pretty eye while not drawing so much attention to the less attractive eye.
As a hairdresser, I have used both the Eye and the Nose Theory in designing a style. However, the following theory is new to me and deserves some thought.
This one says that when a person puts a part in their hair, they are emphasizing either the right or left brain functioning. According to the study by Catherine Walter and John Walter called
The Effects of Hair Parting on Social Appraisal and Personal Development
, others make subconscious assumptions about you from the way you part your hair.
The Gender Theory


Men with a Left Part

The left part works well for men. They are seen as popular, successful, strong and traditional although possibly out of touch with their feminine side.

Women with a Left Part

This is good for women interested in a career in politics or business. They are perceived as intelligent, in charge, and reliable. Sometimes they are perceived as overly masculine and this can create difficulties in fulfilling traditionally feminine roles.

Men with a Right Part

The right part is not natural for men. It can create an uncomfortable image, and is sometimes perceived as radical. However it can work for the man who is very self-confident or striving to be respected in a non-traditional role.

Women with a Right Part

This is natural for women. It is seen as very feminine, gentle and caring, however it can sometimes cause the problem of not being taken seriously.

Men and Women with No part, Center Part or Bald

This is perceived as natural for men and women. It is perceived as balanced, trustworthy and wise although it can lack the flair associated with the other types.
Read the complete report on this theory here.


Now you have many choices as to where to part your hair. Try several until you find the one that works for you.



LC Legacy Styling Products
Great Hold and Great Conditioning



This site needs an editor - click to learn more!

You Should Also Read:
The Perfect Hair Style
Choosing the Perfect Hair Color
The Dreaded Cowlick




Related Articles
Editor's Picks Articles
Top Ten Articles
Previous Features
Site Map





Content copyright © 2022 by Lynne Chapman. All rights reserved.
This content was written by Lynne Chapman. If you wish to use this content in any manner, you need written permission. Contact BellaOnline Administration for details.