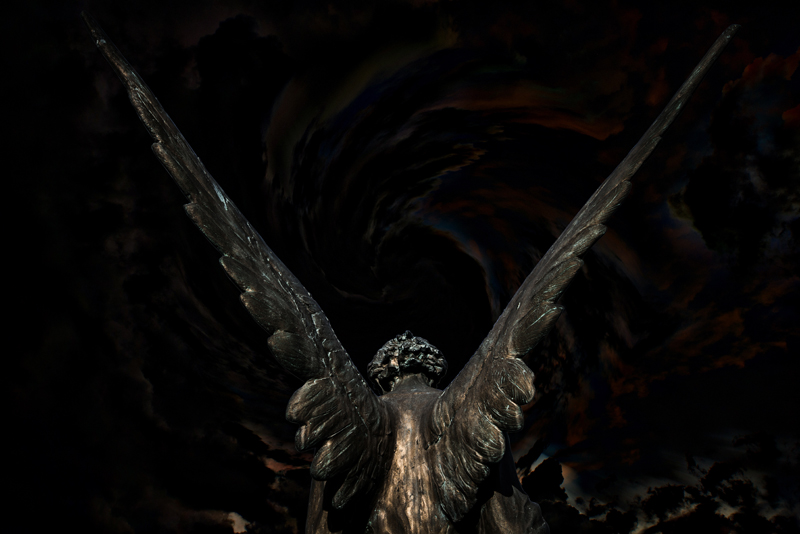 Cradle of Filth's loss is Nemhain's gain. Adrian Erlandsson gave up the drumming duties in Cradle a few weeks back to play in this new band with his wife Morrigan Hel. Adrian also has some other projects in the pipeline but more about that later.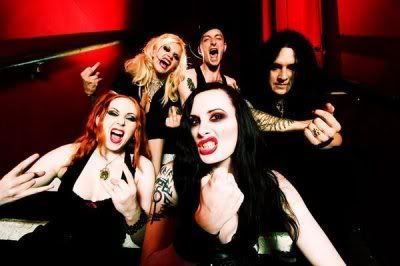 According to Irish mythology, Nemhain was a goddess of war and the name means "panic" or "frenzy". Quite appropriate in this case, I would have to say. Nemhain came about as a result of Morrigan and Adrian jamming with friend Cherry Forever. Later they added Sam Hain (lead guitar) and The Witch (bass). Eventually they decided that there was enough potential to make a band out of it and cut
Blood Runs Free
which is the band's demo that they're currently shopping around to labels. This is a band that exudes potential since these four songs have an energy that is almost palpable.
The demo kicks off with "Ana", a song that the band has already shot a video for. A sedate guitar accompanies Morrigan's voice which repeats the line "I got a girl" several times before kicking into a punk-rock fury that re-enacts the time the blade came off my table saw during use. It's good but there is much better here.
The next cut "Heroin Child" builds the excitement from the blazing few chords. This is an excellent song that cranks along forcefully before coming to a pause in the middle to allow you to catch your breath. Morrigan sounds similar to Brody Dalle from The Distillers in a lot of places which is a good thing in my book. The guitars are sharp and Adrian must have problems restraining himself because the drumming is in the pocket all the way through. This is my favorite cut.
"Girls Like Honey" slows down the momentum nicely with the intro to this mid-tempo cut that gets nasty just before the excellent chorus. This is probably the most interesting song on the EP structurally, in that it goes places you didn't expect off the top. It's got a mix of punk and metal that is married in some unholy territory that works fantastically well. OK, I take the previous statement back. THIS is my favorite cut.
"Speed Queen has a chorus that sticks in my freaking head and won't leave despite my best attempts. The rollicking beginning leads into a more punk-ish song that breaks down into the afore-mentioned chorus. I have to amend all previous statements and declare THIS is my favorite cut. Altogether now….."Speed Queen, baby….
Although Morrigan disagrees with my assessment, I find Nemhain to be the logical replacement for The Distillers. True enough, this band is more hard rock/metal-ish than those punk legends but there is a close symmetry between the two, from Morrigan's passionate vocals to the urgent, aggressive music. Although I am just coming around to "Ana" now, the other three cuts are excellent and I can't choose from among them. The success of this band is an obvious no-brainer. Check out three of the songs at the band's MySpace below and watch for their debut record soon.
You Should Also Read:
Official website


Related Articles
Editor's Picks Articles
Top Ten Articles
Previous Features
Site Map





Content copyright © 2023 by Morley Seaver. All rights reserved.
This content was written by Morley Seaver. If you wish to use this content in any manner, you need written permission. Contact Morley Seaver for details.