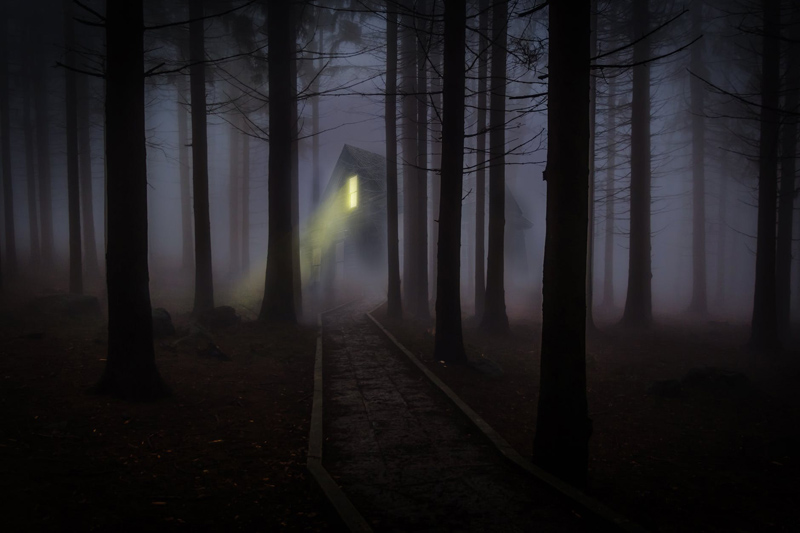 Does God talk to some people? Does He assign tasks to humans and send them into the world to do His work? These questions usually conjure up the role of missionaries and self-sacrificing saints. But what if the assignments are given to a good and honest man asking him to take care of people who sin and get away with it during this Earthly existence? Can a serial killer be a good angel?

"Frailty" opens at a police station late at night—crickets chirping, eerie and quiet. Fenton Meiks (Matthew McConaughey) strolls in to speak with FBI Agent Wesley Doyle (Powers Boothe) who's been on the trail of a serial killer. Fenton begins his story claiming his younger brother, Adam, whom he has recently buried in the "rose garden" behind his childhood home, is the man he seeks. Through the night, Fenton tells the story of growing up with his psychotic father and disturbed brother. As he relates his childhood, Fenton glances at a picture of Agent Doyle's mother and asks the FBI man about his family.

According to Fenton junior, after his mother died, his father, Fenton senior (Bill Paxton) began reporting that God had spoken to him and given him the duty of ridding the world of demons--humans who had committed grievous sins without being caught and punished. Fenton tells how participating in the vengeance murders had repelled him while intriguing his brother, Adam. After their father's death, Adam had continued "His work."

Agent Doyle presses for details while Fenton remains vague, making for a juicy cat-and-mouse game. Why doesn't Fenton just give Doyle the facts and leave?

Because this way, Doyle ends up accompanying Fenton to the rose garden to see the fresh grave of Adam for himself...and realizes he has been caught in Fenton's web and must now pay for the murder of his own mother, which had not been recognized as a murder.

The next day, agents receive word that Fenton Meiks is dead at his house. Next to him is a list of his victims, Doyle being the last. There's a recent flashback to Adam Meiks killing Fenton and leaving the list.
Agent Doyle's helpful witness had been Adam Meiks all along. Adam Meiks works as a sheriff. Now that's a fitting occupation for Fenton senior's son.

What makes this story more than a horror flick starring a crazed family ala "Texas Chainsaw Massacre?" In Frailty, we, the audience, had a chance know what truly "bad" people Adam and his father's victims were. Which leaves us wondering if, just maybe…God was talking to Poppa Fenton.








You Should Also Read:
MysteryShrink
A Psychologist on the Loose


Related Articles
Editor's Picks Articles
Top Ten Articles
Previous Features
Site Map





Content copyright © 2018 by Barbara Rice DeShong, PhD.. All rights reserved.
This content was written by Barbara Rice DeShong, PhD.. If you wish to use this content in any manner, you need written permission. Contact Grace Rostoker for details.