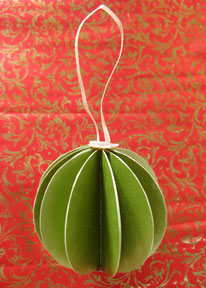 Christmas ornaments, anyone? Hereís an ornament that's made from stacks of folded paper or cardstock, like a book. It doesnít take long to finish this project Ė the longest part is cutting out the circles! To speed things up, use a die cutter if you have one, but a good pair of scissors and a bit of patience will suffice.
You will need:
* One sheet of letter size (8-1/2 by 11 inches) metallic card stock
* Sheer ribbon, 1/16 inch wide and 6 inches long
* Two mother of pearl buttons (with two holes)
* Craft glue
* Circle template, 2-1/2 inches in diameter
* Scissors
* Pencil
* Bone folder (optional)
* Spring-type clothes pin (optional)
Trace 12 circles onto the cardstock and cut them out. Fold each circle in half with the decorative surface inside, using a bone folder if necessary to make crisp folds. Set the circles aside. Take one folded piece and apply glue to one of the outside halves. Take another folded circle and stick it to the first circle, making sure that their folded edges are aligned. Apply glue to the outside half of the second circle, and stick on a third circle. Repeat these steps for the rest of the circles, until you have a stack of them. Set the stack aside.
Thread the ribbon through both holes of each button, and ties the ends with an overhand knot. Adjust the position of the buttons so that the knot is between them. One button should have the ribbon snug against it (this is the bottom), while the other button should have a long loop of ribbon for hanging the ornament (this is the top).
Now take the stack of folded circles and lay the ribbon along the folds or spine, so that the buttons are at the ends of the spine. Now apply glue to one of the outer half circles and stick it to the remaining one. Hold them together until dry; you may want to use a clothespin for this. Adjust the ribbon and buttons as needed; you may want to glue the buttons in place, although this isnít necessary.
Tips:
Try using other symmetrical shapes instead of circles.
You can substitute six-strand embroidery floss for the ribbon, or use any coordinating fiber like metallic cord, yarn, or twine. You can also tie a bow around the hanger using a wider ribbon in a matching color.
Make this an artsy "book" ornament by cutting out letters and words and from an old book or magazine and gluing them to the pages to form phrases like "Happy Holidays" or "Seasonís Greetings". Key words from the song "The Twelve Days of Christmas" would fit very nicely too. You can also stamp words and images on the pages, if youíre using non-patterned cardstock. Be creative and have fun!