Nokia N-Gage Game - Cellphone - MP3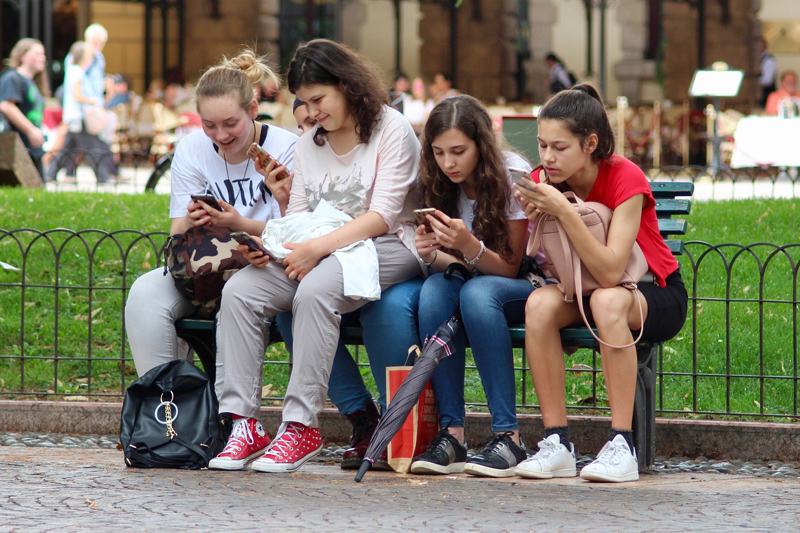 The Nokia N-Gage has brought multiuse gaming to the world. This handheld device is about the size of a GBA and has a great MP3 player, cellphone, address book, calendar, FM radio, web browser and more!
People who look at and judge this device solely as a "GBA SP contender" are missing the point. This system is more like a super-charged palm pilot than a GBA SP. You can surf the web from it, share images with friends, give them a call when you're running late, look up your calendar appointments, and then play a game of Super Monkey Ball or tetris while you wait at the doctor's!
First, the size. Here's an image of my N-Gage next to my GBA SP: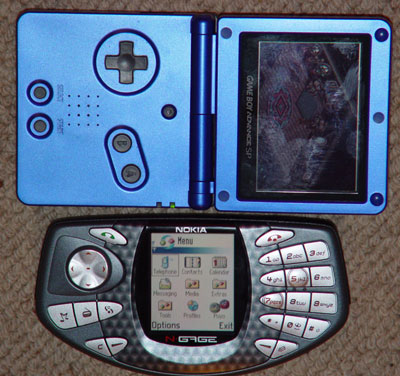 The screen on the Nokia is a bit smaller than the GBA SP but no different than most handhelds. It is very crisp and bright, very easy to read. The GBA SP has a lot of 'wasted space' but the Nokia is actually well designed - easy access to the MP3 area, radio and main menu. Buttons to make calls are right up on top, and the gaming controls are raised and easy to get to.
The graphics are quite sharp. The two games I'm addicted to right now are Super Monkey Ball (just about exactly the same as the GameCube version) and Puyo Pop which is a jazzed up Tetris game. Both are fun to play with voices, music and graphics. The various menus to get to your notepad, calendar, calculator, etc. are customizeable and easy to use.
The radio works very well and brings in radio stations easily, letting you set favorites and give them names. The MP3 system works off of memory cards that are shared with the Otis and other MP3 devices - the USB cable lets you move playlists on and off your PC. The sound both through the headphones and through the built-in speakers is clear and strong.
A few people have complained that you look "silly" holding this system to your head to make calls. So wait, they're spending $300 on a PDA system that can browse the web, play games, and play music - and their concern is about "looking cool" in front of their friends? Making phone calls is a normal part of life - it's not a catwalk on a runway!
On one hand, yes $300 is a lot of money. But on the other hand I own a cell phone, a GBA SP, a portable radio, a high-end MP3 player, a Palm Pilot and have paid for currency converters and other add-on software. It is a ROYAL pain when we go on motorcycle trips or trips over to Europe to carry 8 different devices, worry about charging them and keeping the batteries stocked. When we're traveling we use the radio for weather updates, the MP3 to play books-on-tape, the palm pilot for hotel information, calendars and currency converters, the cell phone to call ahead and let people know when we're arriving. When we have down-time, we play the games and enjoy the relaxation. This Nokia is PERFECT for those tasks. One device to charge, no batteries to buy, small size, easy to use.
My two complaints with the system both involve the games. One is that there aren't many out right now - but that is normal for any brand new release. The second is that to change games you have to take out the battery. But I don't tend to game-swap every 15 seconds - I'll play a game for quite a while before moving on to a new one. So neither issues are huge for me. If you're a new-game-every-10-minutes person you might get tired of changing the cartridges constantly.
In general, if all you're after is a game-player to play Mario 24 hours a day, and don't own a cell phone, MP3 player, calendar, radio, or any other device, then this might not be the system for you. Just stick with your GBA SP and enjoy. But if you DO own one or several of the other devices, I highly recommend grabbing a Nokia and giving your other devices away to your friends. After a short while you'll wonder why you used to bother filling your pockets with 10 different devices, when this one N-gage can do it all!
Buy the Nokia N-Gage from Amazon.com


Editor's Picks Articles
Top Ten Articles
Previous Features
Site Map



Follow @lisavideogames
Tweet





Content copyright © 2022 by James Shea. All rights reserved.
This content was written by James Shea. If you wish to use this content in any manner, you need written permission. Contact Lisa Shea for details.