Mrs. Amy Nutt's Vintage Insertion 1917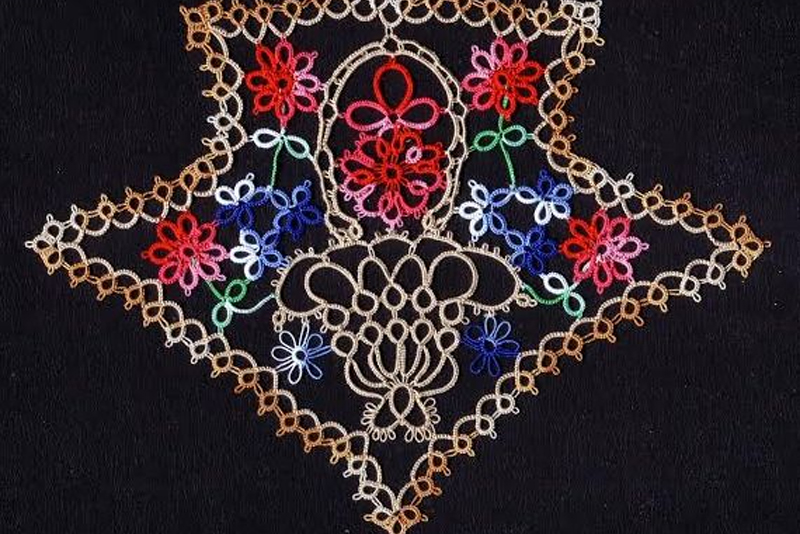 Here is a vintage insertion with many possibilities. It is by Mrs. Amy Nutt and first published in The Plain Dealer , Jan. 14, 1917. It is the simplest of patterns with a stitch count of only 7 double stitches between each picot or join. It can be used on every day household linens and towels. Or, look at it as a garland perhaps. Add beads or jingle bells and it is perfect for decorating your holiday tree.





Pattern:
Wind shuttle without cutting from the ball when using just one color.
If using two colors, begin the first ring planning ahead to hide the ends when done. There are several options. The best way to hide your thread ends is to avoid creating them whenever possible. So that means winding the shuttle without cutting the thread, or continuous thread method. Eventually, no matter how hard you try to avoid it, you tat to the end of the thread, literally. There are several ways to hide the ends.
"Consider the Ends first" https://www.bellaonline.com/articles/art36742.asp
"Hiding Tails Basic (Shuttle)" https://www.bellaonline.com/articles/art1395.asp
"Hiding Tails preferred method" https://www.bellaonline.com/articles/art1765.asp
"Planning for the End" https://www.bellaonline.com/articles/art29954.asp
R = Ring CH = Chain - or p = picot + = join RW = reverse work, clr = close ring
*R 7 - 7 clr RW
CH 7 - 7 - 7 + (join to picot of ring) 7 - 7 - 7 RW
R 7 + (join to second picot of previous chain) 7 clr RW
CH 7 - 7 - 7 RW
R 7 + (join to last picot of the chain tatted before ring 2) 7 clr RW
CH 7 - 7 RW
*repeat for length desired.
To have beads on the rings, please add them to the shuttle thread as it is wound. Then move the beads up into the ring as it is wrapped around the left hand. Let the beads just hang loose on the back side of the left hand until needed.
To have beads on the chains, please place beads on the ball thread or shuttle 2.
For needle tatters, all the beads are placed on the ball thread and moved into position as desired.
For beading basics, please see:
"Basics of Beaded Tatting" https://www.bellaonline.com/articles/art65935.asp
"Beading Info" https://www.bellaonline.com/subjects/5945.asp
Of course, beads may be placed on the picots as you are tatting also. When you reach the picot, use your crochet hook to pull the thread through the bead. Bring out a loop large enough to pass the shuttle through it. Then remove the slack and snug up the bead as desired and continue to tat.






Related Articles
Editor's Picks Articles
Top Ten Articles
Previous Features
Site Map





Content copyright © 2019 by Georgia Seitz. All rights reserved.
This content was written by Georgia Seitz. If you wish to use this content in any manner, you need written permission. Contact Georgia Seitz for details.