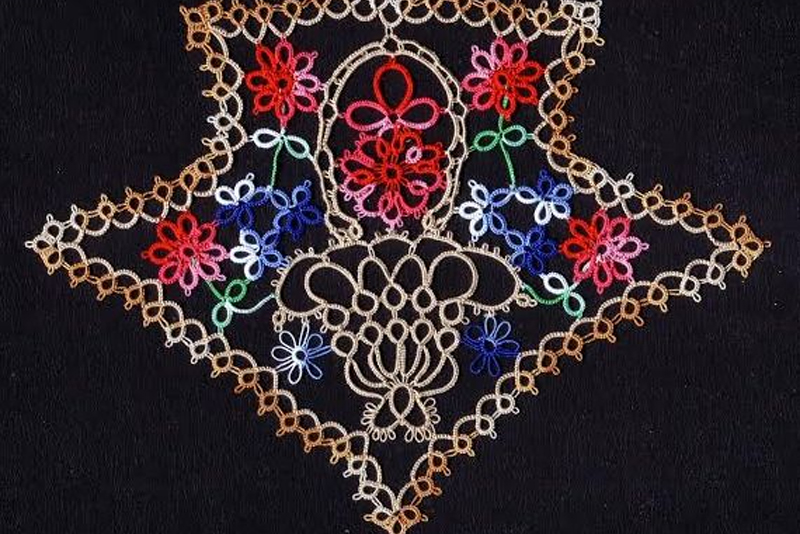 There is a national organization called "Newborns in Need." This group embellishes clothes for babies in need. They also prepare burial layettes. Tatters may donate tatted lace to embellish these tiny outfits all year long.

https://www.newbornsinneed.org/html/how_to_help.html

An international project hosted by the Holocaust Museum is still in progress. They invite all to prepare a butterfly in any medium to donate. These butterflies will represent the lost children of the holocaust in a future exhibit at the museum. It is easy to imagine a ceiling filled with floating tatted butterflies. Please contact me if you need patterns. (No glitter; nothing edible, please.)

https://www.hmh.org/ed_butterfly1.shtml

Perhaps the premier tatting event of the year is the annual TAT DAYS sponsored by the Palmetto Tatters Guild. Their mission is to promote the craft of tatting and spread it like kudzu across the South! They offer classes in tatting by nationally and internationally known tatting designers. The next event will be held in Tococa, GA next to a 285-acre lack with hotel style rooms and one giant dining hall. And, the Guild offers scholarships to tatters to attend this annual tatting workshop. Each year they have a live and a silent auction to raise funds for the scholarship. Donations of tatting would be super.

Scholarship fundraiser details: https://www.tatdaysscholarship.info/index.shtml

The Palmetto Tatters Guild is also present at the South Carolina State Fair where they demonstrate tatting, teach beginning tatting and share a BUTTERFLY and other tatted BEAUTIES with the thousands of fair goers. Each year they are in need of small tatted items to share with the attendees at the fair. They are treasured by all. If you would like to help spread tatting please mail items to:

Palmetto Tatters Guild
P.O. Box 1597
Lexington, SC 29071

Palmetto Tatters Guild was also recognized for more than 1400 volunteer demonstration hours in 2005-2006 at the I.O.L.I. Annual Convention in Montréal, Québec, Canada, July 2006. The I.O.L.I. President awarded three Charter groups a Certificate of Achievement for demonstrating the art of making lace for more than 1000 hours in a single year. The group continues to demonstrate year round. For more information on volunteer opportunities please contact the International Old Lacers, Inc. or join one of the Charter Chapters.

https://internationaloldlacers.org/
https://www.internationaloldlacers.org/chapters.html


Related Articles
Editor's Picks Articles
Top Ten Articles
Previous Features
Site Map





Content copyright © 2019 by Georgia Seitz. All rights reserved.
This content was written by Georgia Seitz. If you wish to use this content in any manner, you need written permission. Contact Georgia Seitz for details.