Building a Tatting Library - Jane Eborall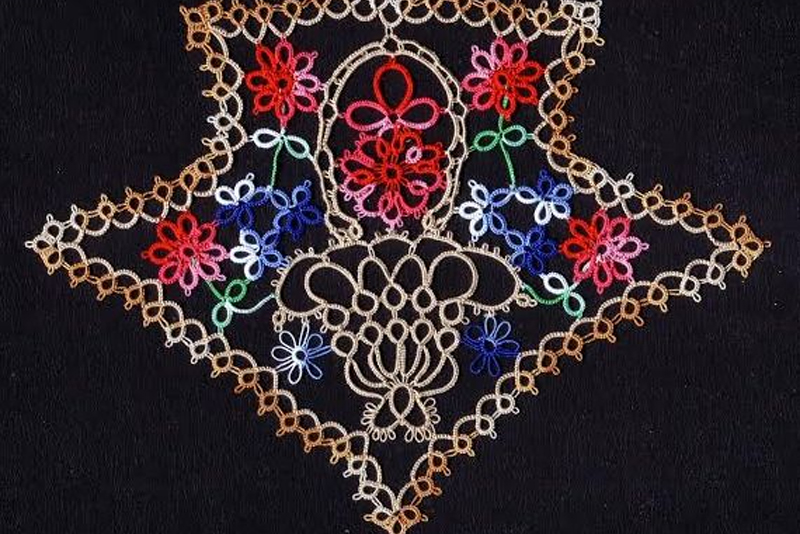 Jane Eborall, Master Tatter
I met Jane Eborall at a roadside rest stop en route to Columbia, SC years ago. No! It's the truth, honest! We had stopped to stretch our legs and I noted a lady resting on a blanket napping. I mentioned that was a sensible thing to do but I sure hoped that there were no chiggers around there. As we headed to the car I passed a shady pavilion where a lady sat relaxing. We said "Good Day," and "Hi, how are you?" She had the sweetest smile. And then we parted.
I could not have known then how important this lady would become to me and to tatters around the world. A few hours later we hugged as we recognized each other at the Palmetto Tat Days teachers meeting. (Oh! the napping lady was Ruth Perry, aka Rozelle Linden.)
Time passed and many shuttles were wound and emptied. Then, for one lesson on the Online Tatting Class, I asked tatters to submit all the different ways they knew to make a split ring. Jane explained to me her original method - standing on her head! Mark Myers (https://www.bellaonline.com/articles/art21786.asp) followed up with a great cartoon of Jane tatting upside down! And then, as I sat contemplating the image of upside down Jane and her shuttles, these words came to me.







Jane's new way to tat a split ring. The eulogy by Georgia Seitz:





I remember Jane Eborall best for her tatting skills. I will never forget the day she taught me her secret technique of tatting a split ring while standing on her head! What an epiphany that was! And now there are hundreds, nay, thousands of tatters who owe a debt of gratitude to Jane for teaching them this useful technique. What a shame she never patented that technique! The funds generated from its use could well fund medical research and pay medical bills for all the tatters with broken fingers, arms and legs acquired while practicing "Jane's Way." Jane will be missed every time I take a pill for that awful headache I get from standing on my head tatting, but oh the rewards are worth all the pain. Every pain in the neck I get I will think of Jane.




In Jane's teacher's info she wrote that she has lived in Stratford-upon-Avon (of Shakespeare fame), in the UK for many years. She learned together with her grandmother and has continued to tat for over half a century. She remarked that her 'career' as a tatting designer started with a need to make unusual earrings to 'entertain' some young children she was teaching and blossomed from there.
During a recent session of the Online Tatting Class, I mentioned that I knew Jane as a tatter, tatting designer, tatting historian, tatting illustrator, technical artist and technical teacher whose generosity and popularity has made new designs travel around the world in minutes. Others chimed in with praise for her wonderfully helpful tatting tutorials. Another recounted that she's helped so many tatters to have "Eureka!" moments! Others commented that her site makes tatting fun. She has so many fun little patterns such as animals or holiday motifs and, best of all, always takes the time to help a beginner too..the first TIAS I attempted, I made so many mistakes, and she corrected me and taught me the correct way by email each time, always injecting her own sense of humor!
Shanan Strode said it so well: "She slips little things in her TIAS that I had not done before, but she explained them so well, that I attempted them and actually finished the TIAS and had a fun new project to show off."
Now TIAS might be new to you. TIAS stands for "Tat it and See." Some years ago Jane began to dissect figures and tat them in small pieces. She give out a piece of the "puzzle" at a time and we all have a lot of fun trying to guess what critter we are tatting this time. Jane said: "Since then this annual game has grown and in January saw over 100 people worldwide taking part. It has proved a very useful learning tool for tatters who participate – and for me!"
You will enjoy a visit to any of Jane's pages online.
https://www.janeeborall.freeservers.com/
https://janeeborall.blogspot.co.uk/
facebook: https://www.facebook.com/pages/Janes-Tatting-Adventures/271148229979
etsy: https://www.etsy.com/shop/janeeborall
An random selection of images from Jane's website:
https://www.bing.com/images/search?q=Jane+Eborall+tatting&qpvt=Jane+Eborall+tatting&FORM=IGRE
Two years ago the drawing program that I had used for decades (since 1991) finally died. It was so old is was a DOS-based program. I needed new diagrams on a weekly basis and was unsure of which new program to purchase and which one to invest my time in learning. So I called on Jane whose masterful diagram have helped so many. Since then, she has been the "GO TO GAL" for diagrams for the Online Tatting Class. I owe her so much for her continuing help especially to illustrate techniques. If you enter Jane Eborall into the special search box on the class page (https://www.georgiaseitz.com/2012/2012index.html), you will easily see more than a dozen pages of links to pages with her work on it or mentioned.
Jane does not have a book in print, but her entire body of work is available online free. Don't miss a single one of her patterns.
You Should Also Read:
Men in Tatting - Mark Myers
Building a Tatting Library - Standards


Related Articles
Editor's Picks Articles
Top Ten Articles
Previous Features
Site Map





Content copyright © 2019 by Georgia Seitz. All rights reserved.
This content was written by Georgia Seitz. If you wish to use this content in any manner, you need written permission. Contact Georgia Seitz for details.