Beverly Cash & Jennifer Freudenburg Tatting Manual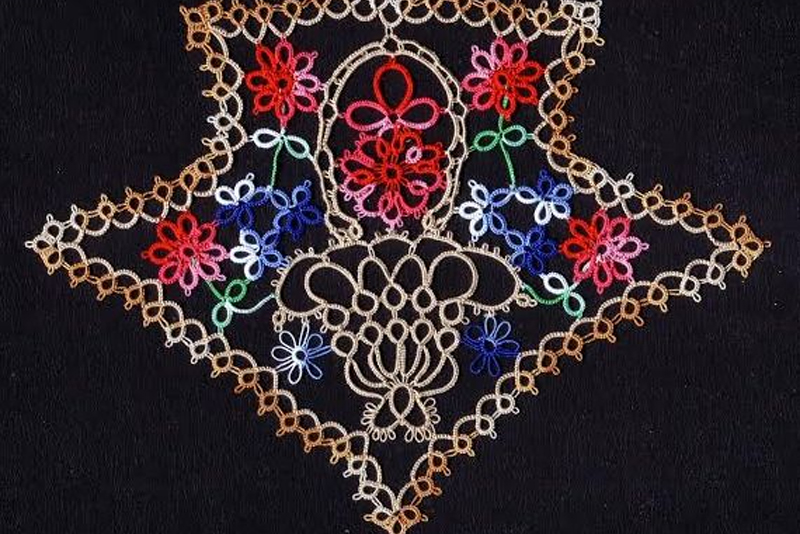 To be ... or Knot to be - a Tatting Manual

by Beverly Cash and Jennifer Freudenburg

79 pgs (printed on one side only) with comb binding, 2000








This is a very traditional presentation of the technique of shuttle tatting. The actual instructions do not begin until pg. 23 with the early portion of the book having been devoted to historical info (not all of which was correct, see note.) Then follows discussions of the many shuttle types, a comparison chart for thread sizes and ended with descriptions of other tatting methods which were not to be taught in this manual, including needle tatting.


A series of black and white photos on pgs 24-30 show clearly each movement of the hand and shuttle needed to complete the first half of the double stitch. Two additional photos illustrate the second half stitch. A series of hand drawings explain the formation of picot and the steps to opening a closed ring.


Fully ten pages are devoted to the various joins used in tatting. Two methods for joining the last ring to the first ring in a design of outward facing rings without the twisted last join are taught through more black and white photos.


The instructions on chains are followed by a hand drawn comparison chart to determine the front and back side of the tatted lace by examining the base of the picots. The book does include a few words on beading and how to read patterns. The only actual pattern in the book is for the doily depicted on the front cover.


Note: Some references in the book date tatting back to the 1300's, which although possible, is NOT documented by the items noted in this book. It is easy to be misled by early reference to "shuttles" as meaning "tatting shuttles" when in actuality at that period the use of the term "shuttle" refers to either knotting shuttles or weaving loom shuttles, not tatting shuttles. Queen Mary ll was not a tatter but is referred to in history and literature as being a knotter. Note misspelling, 'scheffchenargeit' should have been 'Schiffchenarbeit', German for tatting. Book also stated that tatting flourished in Cambodia but no supporting documents were given.


This book is one of many in my personal collection of tatting books. G. Seitz


Related Articles
Editor's Picks Articles
Top Ten Articles
Previous Features
Site Map





Content copyright © 2019 by Georgia Seitz. All rights reserved.
This content was written by Georgia Seitz. If you wish to use this content in any manner, you need written permission. Contact Georgia Seitz for details.