Miniature Doily for Dollhouse Side Buffet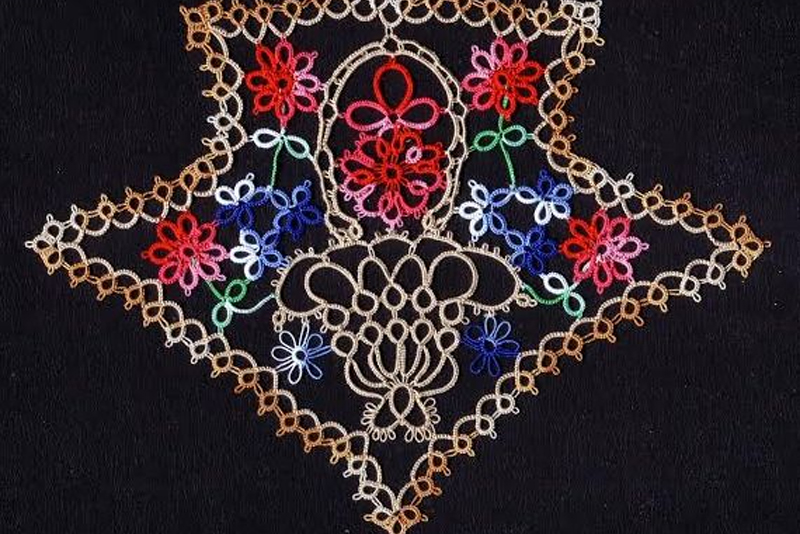 Miniature Doily for Dollhouse Side Buffet
I have always adored doll houses. I had one for many years and delighted in filling it with tiny tatted pieces. Back in 1995 I published several of my miniature designs in Book 3 of the Ribbonwinners Series, "Tatting Tiny Treasures - Miniature Tatting for Doll houses." Recently, I had the pleasure of visiting the Museum of Miniature Houses in Carmel, Indiana just north of Indianapolis, IN.


Displayed there are both antique and modern doll houses as well as room boxes (a single room with a specific theme), smaller vignettes and collections. And, to my delight, I found many examples of tatting used in them. It is well worth a visit.


I hope this miniature doily with the double Sitka Rose with intrigue you. The Sitka Rose was the signature motif for this book which is still in print. The pattern for it is posted here online https://www.georgiaseitz.com/classes/springideas.html and given below.


Oval Sitka Rose Doily:
First create two classic rosettes with 6 petals instead of 5, and stopping after the third round of chains. Join the last two segments of chain to the other rosette. Continue with that color adding another round of chains encompassing both rosettes. Place 3 double stitches between each picot or join. Finish off ends. If desired, change the thread color here.


Begin with a self closing mock ring (SCMR)

CH 4 - 4 - 4, using sh2 throw off two rings

R 3 + (join to last picot on chain)3 + (join to rosette) 4 + (join to rosette) 3 close ring. DNRW Leave no space. CH 1

R 3 + (join to rosette) 4 + (join to rosette) 3 - 3 close ring. DNRW Leave no space.

CH 4 + (join to the last ring)4 - 4 close SCMR RW

Chain around with 3 ds between each picot of join.

Chain around again joining at the mid point of the chains of the previous round.

Tensions chains before they are joined into graceful curves.





The Classic Rosette:



The classic rosette is formed with a ring and several picots. The number of picots determines the number of petals on the rose. Begin and end the ring with the same number of stitches and create one less picot than the number of petals desired. For example:



R 2 - 2 - 2 - 2 - 2 close ring.

Tie the ball and shuttle threads together or create a lock stitch to make a false picot which is the same length as the other picots.

DO NOT REVERSE WORK.

Simply rotate the ring a quarter turn clockwise and begin chaining around the ring making a shuttle join into each picot. CH 8 + 8 + 8 + 8 + 8















Join last chain into same picot where the chains started. This join may be made directly into the exact spot as before. This means, however, that the thread is pulled up and over with each succeeding join and it becomes highly visible. Or, the shuttle join may be made into the short length of thread from the ball which is on the back side of the join. Remember the ball thread is not involved in the shuttle join so it is just carried forward that short space on the reverse side.



On the second round of chain work the length of the chain needs to be increased and each segment of chain should have the curve enhanced by gently compressing the stitches to the left before joining.
The number of rounds of chain work are at least three traditionally, but may be increased or decreased as desired. Additional patterns may decorate the edge. (The next round of chains are: 10, 12; then the chains with the picots begin and end with 2 DS and have 3 DS between each picot; the last chain segments are 16 DS. Compress before each join.

This is an excerpt from Book 3 of the Ribbonwinners Series, Tatting Tiny Treasures: Miniature Tatting for Doll houses. Copyright 1995 Georgia Seitz


You Should Also Read:
Reverse Work, Turn, Rotate


Related Articles
Editor's Picks Articles
Top Ten Articles
Previous Features
Site Map





Content copyright © 2019 by Georgia Seitz. All rights reserved.
This content was written by Georgia Seitz. If you wish to use this content in any manner, you need written permission. Contact Georgia Seitz for details.