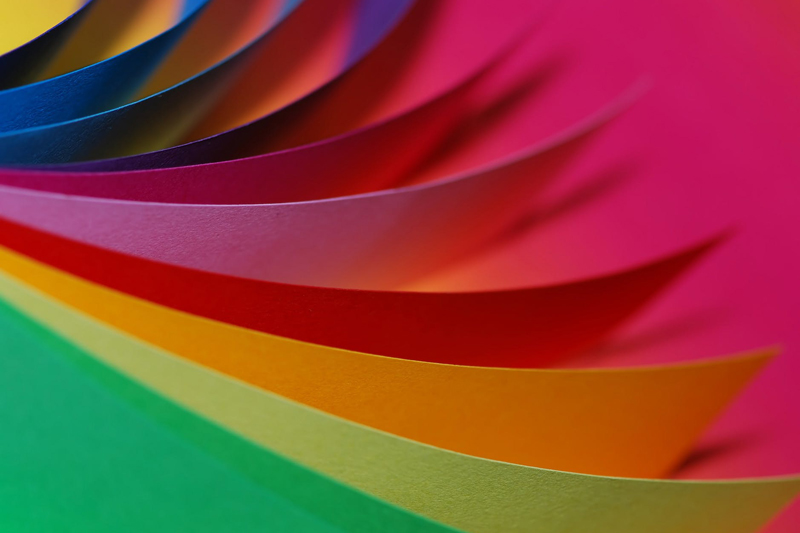 ATCs or Artist Trading Cards are artworks that measure 2.5 inches by 3.5 inches, and which are never, ever bought or sold – only traded. They are signed, dated and titled, with the contact information of the artist at the back of the card. ATCs were introduced in Switzerland in 1996 by artist M. Vanci Stirnemann, who was inspired by hockey trading cards to make a 1200-piece set of ATCs which he put on exhibit. Instead of selling the cards, he asked interested buyers to make an ATC of their own and trade it for one of his. The idea behind ATCs is that art is for sharing, and by trading their work in person or by post, artists get to connect with each other.
ATCs can be made out of any material using any kind of technique. There are ATCs made of cardboard, cloth, clay, plastic and metal, and these are painted, sewn, quilted, cast, or engraved, among others.
In terms of paper crafts, ATCs are a fun way to try different techniques on a small scale. You can make an ATC using paper appliqué, collage, rubber stamping, stenciling, embossing, paper casting and more. Whatever technique you choose, it's always a good idea to use a sturdy base like cardboard from a cereal box to better withstand handling. Use good materials for your ATC too, so that it doesn't fall apart or fade after a while. To protect your finished ATC, slip it into a plastic sleeve; these sleeves are available in shops that sell trading or collectible cards. If you prefer to use a paper sleeve, Ruthann Zaroff of Mirkwood Designs offers a free template for an ATC envelope that you can download from her site.
To store your collection, you can buy an album made for sports trading cards, also available at trading card shops. A more fun way is to alter or decorate an old tin or box that's just the right size to hold a number of ATCs. You can also opt to display your collection. 7Gypsies has a carousel made specifically for this purpose; simply clip your ATCs onto the stand and set the carousel where everyone can see it. Another option is to frame your ATCs, individually or as a group. You can also use ATCs as part of a collage, as an element on a scrapbook page, or as the focal point of a greeting card.
As ATCs are meant for trading and collecting, the best way to grow your collection is to join an ATC group. Search the Internet for "artist trading cards groups" to get a list of groups that host swaps, both face-to-face and via snail mail. One the most active is ArtistTradingCards at Yahoo! Groups.
ACEOs
Similar to ATCs are ACEOs, or Art Cards, Editions and Originals. Like ATCs, these also measure 2.5 x 3.5 inches and can be made of any material. The main difference is that they are meant to be sold. ACEOs came about when American artist Lisa Luree decided to make her art cards available to buyers on e-Bay so that even non-artists could collect them without having to make their own to swap.
An ACEO is either an Original, which means that there's only one of it, or part of an Edition, which means there are several prints of it, with each one numbered, dated, and signed. Editions can be open or limited. A Limited Edition card means that a fixed number of prints are available; once these cards are sold out, no other copies will be made again. An Open Edition card, on the other hand, means that there is no limit to the number of prints that can be made and sold.
ACEOs are available for sale online on sites like eBay and Etsy, and on art card sites like Artcardswanted.com. You can register with these sites to sell your ACEOs as well.
Resources
(Offsite links)
Artist Trading Cards: A Collaborative Cultural Performance
. The original ATC website.
ArtistTradingCards
. An email discussion group on Yahoo for ATC enthusiasts.
Art in Your Pocket, by Joumana Medlej
. A book based on one of the early expert websites about ATCs.
ACEOs – Art Cards, Editions and Originals
. A site dedicated to ACEOs.
Art Cards Wanted
. ATCs and ACEOs on one site. Trade, buy or sell art cards here.
Mirkwood Designs
ATC Envelope
. Free template for an ATC envelope.
ATC Cutting Guide
. A cutting guide to fit ATCs onto a letter-size sheet.
I Recommend:


Related Articles
Editor's Picks Articles
Top Ten Articles
Previous Features
Site Map





Content copyright © 2023 by Mia C. Goloy. All rights reserved.
This content was written by Mia C. Goloy. If you wish to use this content in any manner, you need written permission. Contact Mia C. Goloy for details.