Mary Jane Hall - The Crochet Design Process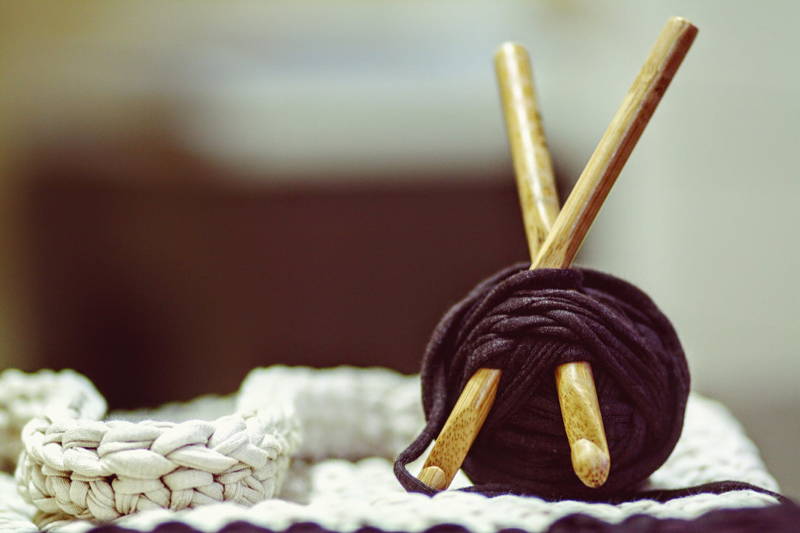 In an interview spread over a number of articles, Mary Jane Hall, crochet designer and author of Positively Crochet, talks to us about the design process, shares tips for aspiring designers and gives us an interesting insight into the world of crochet designing.
KP: How do you split your time between designing and marketing your designs?
MJH:
Since I started designing crochet garments and accessories, I went ahead with a full throttle and got into it full time. Some weeks I may spend only 18 hours designing, but other weeks, I have spent as much as 40-70 hours, depending on deadlines. Even though it can get pretty stressful, I think I work best with deadlines. I do set goals of how many designs I want to finish in a particular week or month. Sometimes I meet those goals but sometimes I don't. For a while there my goal was 1 garment a week, or 2-3 accessories a week. I work best at night when the phone is not ringing and I have lots of peace and quiet. Since I do mostly trendy garments and accessories I do spend a lot of time researching what the latest trends are. I do this online and by looking in the most popular fashion magazines and going to stores. I know I spend way too much time researching, but I think it's important. I also have lots of teenage girls and young women in their 20's and 30's around me who are a huge help in keeping me posted on what's in style and what they want to see in crochet patterns. As far as marketing, my publisher has done most of that, but I do help by contacting stores they haven't made a connection with, and I contact people, well - like you, Kate!
KP: You also teach, run classes and talk to groups. Is this interaction with other crocheters important to you in the design process?
MJH:
Oh, being with other people who crochet really gives me extra energy because I get to know what each of them wants in a design. I have actually done surveys on what people what or don't want in a crochet pattern or book. The surveys have really helped me produce some designs that have been in demand. Being with other crocheters helps give me energy!
KP: Is this an essential part of the process or does it eat into your design time?
MJH:
There are times when I go to my monthly local CGOA meetings or when I go to the crochet croup/class of my own, and I'm thinking I need to be working on my own crochet. Sometimes it's frustrating trying to teach a 7 year old or a 60 year old to crochet, but I keep telling myself, "If you give to other people (especially yourself) it will come back to you. In other words, it's the principle of sowing and reaping, set up by the laws of nature. You will reap what you sow, even if you don't believe in that principle. So to answer your question, yes, it does eat into my design time sometimes, but I keep telling my self, "People are what's important, and I will naturally be blessed if I invest my time in people." I always manage to get everything done, even if things are stressful.


Related Articles
Editor's Picks Articles
Top Ten Articles
Previous Features
Site Map





Content copyright © 2018 by Kate Pullen. All rights reserved.
This content was written by Kate Pullen. If you wish to use this content in any manner, you need written permission. Contact Holly Messenger Aamot for details.