Tatted Gifts and Novelties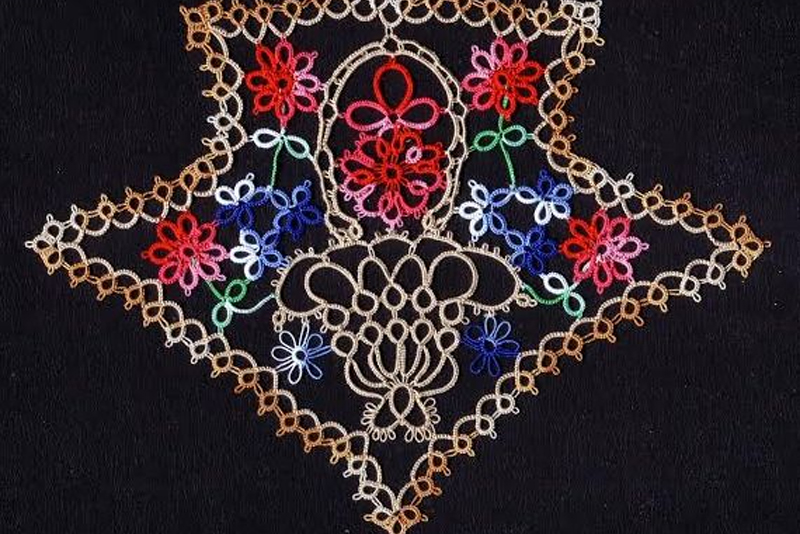 Tatted Gifts and Novelties
I have had the pleasure recently of attending a wonderful weekend at the Palmettos Annual Tat Days 2012. This was their 10th anniversary and every year it gets bigger and better. I have attended as a student of tatting and as a teacher. Their cast of teachers is international and they bring something fresh to every class. The students, too, come from many countries. This year over 115 attended classes taught by 13 tatting teachers (including me.)


| | | | |
| --- | --- | --- | --- |
| The classes are always fun and challenging. From 3-dimensional tatting as in the acorn by Kaye Judt, | | to the whimsical fairy in inverted tatting by Martha Ess, | |
| on to split rings, self-closing mock rings, long beaded picots and the lock chain by Jane Eborall, | | and Erin Holloway's "Dinky the Cat" which employed hidden rings, encapsulation, alligator joins, and joining beads outside and within rings, | |
there were challenges for tatters of all levels of experience.
One of the perks from attending Tat Days (here at Palmettos but also at all tatting events) is the goodie bag. Throughout the year the group members and guilds work together to create some hostess type gifts to use as welcome presents for students and as thank you gifts for teachers. Most of these gift items are easy to prepare but represent a lot of planning, preparation and thoughtfulness. You might like to take note of some of these lovely goodies to use for gifts yourself. This year I received a number of items that were colored coordinated. You can easily guess that purple is my favorite color.


| | | | |
| --- | --- | --- | --- |
| Color coordinated gifts for tat days. | The new Aerlit tatting shuttle with removable bobbin. | The tatted name tags are always a hit with tatters. The pattern is by Kathy Lowe. https://www.bellaonline.com/subjects/7758.asp | Name fob made with beaded split rings. https://www.bellaonline.com/subjects/11075.asp |
| Any simple pattern can be used for earrings. https://www.bellaonline.com/subjects/8394.asp | The little box held the earrings; the purse with pink ribbon handle and the folder with tea bag are made from folded paper. Easy and simple gift presentation pieces. | The paper purse opened up shows a notepad, and the earrings are visible in the opened sliding box. | Sensible and inexpensive gifts include a necklace ring waiting for pendant, a kit with all the necessary thread for a pendant and a rubber needle grabber. |
| This tiny cloth box is call an ort bag. It holds the little snippets of thread which are discarded. | Purple scissors and purple safety cap and joined by a beaded chain. | Drawstring bags are ever popular for carrying the tatting project in progress. | A tatted and beaded chain keeps this picker pin always at the ready. The folded paper box began as a sheet of paper which was used to copy lace laid on a scanner. Clever and easy! |
You Should Also Read:
Gift or Sachet bag
The Tatted Split Ring in Design


Related Articles
Editor's Picks Articles
Top Ten Articles
Previous Features
Site Map





Content copyright © 2019 by Georgia Seitz. All rights reserved.
This content was written by Georgia Seitz. If you wish to use this content in any manner, you need written permission. Contact Georgia Seitz for details.