Guest Author - Vivienne Oestergaard
This week, Iím covering how to start paper quilling. Itís a simple craft and can be really impressive! Take a look at allthingspaper-annmartin.blogspot.com and you can see the variety of quilling available. I love looking at this site for its inspiration and creativity.
First, you will need: paper quilling strips, a quilling board (you can use a piece of cardboard and cover it in wax paper or plastic wrap), a quilling tool (can be standard needle or a slotted one), scissors, toothpick and clear drying glue. The paper strips can be purchased already cut or you can cut your own with a paper cutter. They should be 1/8 or ľ inch in width and about 12 Ė 24 inches in length. A standard quilling tool is a large needle attached to a wooden handle. These days, you can purchase a slotted tool, similar to the standard but with a slot in the end to insert the paper. This is definitely easier for a beginner to use.


The first step is to take your paper strip and using the quilling tool in your right hand if you are right handed (left if your left handed), press your index finger on the strip against the needle. If you are using the slotted tool, insert the paper into the slot. Rotate the tool to form tight curls. Hereís where the creativity begins. You can choose how much curl you want or not. For tight circles, apply glue with a toothpick to adhere the end to the circle. For looser curls, release the paper from the needle and let it form where you want it to and glue. You can pinch the curls to form shapes. Experiment to get the shapes and sizes you wish. You can combine different shapes to make a variety of forms.
Basic shapes include:
Coils
Teardrop
Leaf
Half moon
Triangle
Square
Heart
There are also variations on these shapes.
Many patterns are available online which you can follow. These designs are perfect for cards, scrapbooking, and for framing.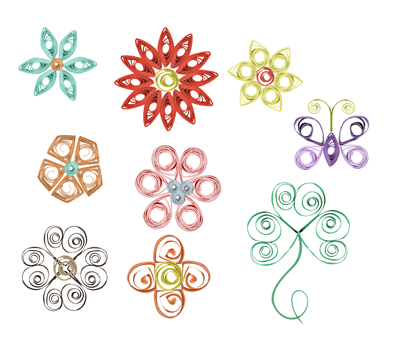 Samples from ViVa Artistry