Guest Author - Elizabeth Darrach
Hello, and welcome back! Now that the holidays are over and things are settling down for many of us, it's time to get back into book club mode. As always, we'll read this month, then discuss in
the forum
next month.
So, without further ado, our February 2004 selection is a classic from Linda Howard,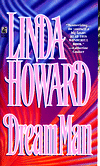 Dream Man (Pocket). This one features Marlie Keen, psychic, who happens to witness crimes as they happen, and Detective Dane Hollister, who can't believe her gift is for real.

So come join us in discussing this one in February!

Until next time, happy reading!