Executive Brain Function In Preschoolers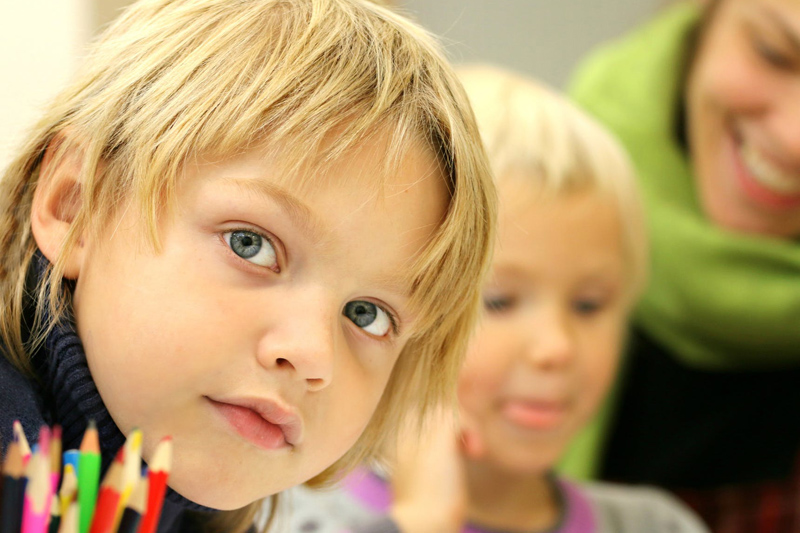 Scientists and psychologists have coined the term "executive brain function" to encompass the cognitive controls that govern and manage our emotions and attention. A professional at Harvard described executive function as "an air traffic control system at a busy airport to manage the arrivals and departures of dozens of planes on multiple runways." The director of professional services at the National Center for Learning Disabilities, Sheldon H. Horowitz, Ed.D, stated that "Executive functioning involves activating, orchestrating, monitoring, evaluating, and adapting different strategies to accomplish different tasks." As both of these professionals have stated in different words, it is apparent that executive function controls self-regulation in our emotions, thoughts, and behavior.

What are the components of executive brain function?

Scientists studying executive brain functions have identified three main components: working memory, inhibitory control, and mental flexibility.

Working Memory: This allows your child to remember multiple step directions. It helps your child take turns in activities when playing with friends, because they can remember that they will get another turn after their friend's turn.

Inhibitory Control: This component is the element that is probably the easiest to identify when observing a group of children playing or in a school setting. Inhibitory control is demonstrated when a child is able to resist the urge to do something inappropriate and do the appropriate behavior, task, etc. Have you ever seen your child raise their hand to grab a toy from another child and pause with their hand mid-air? You can almost see the mental debate going on. Their mind is processing the mental dialog of "I want that toy; I'm going to grab it! I probably should wait my turn, though." Whether or not they grab the toy from the other child depends on how developed their inhibitory control is.

Mental Flexibility: When a child shows they have started to develop mental flexibility they are easily able to switch gears while doing a task. For example, if they are instructed to go get scissors from the blue bucket and return to their seat, but they get to the table to find the scissors are actually in the red bucket, they will still be able to complete the given instructions and grab the scissors and return to their seat. They had enough mental flexibility to realize that even though reality was slightly different from the given directions, the task could still be completed.

Why is this important for your preschool aged child?

Studies have shown that the growth in executive brain functions have the biggest opportunity for growth between 3 and 5 years of age. Kindergarten teachers, surveyed in a national study, identified self-regulation tasks such as paying attention, managing emotions, completing tasks, and communicating wants and needs verbally as being more determinant of whether the child is ready to succeed in school than purely academic readiness (abc's, numbers, etc). According to the Center on the Developing Child at Harvard University, each person is born with the potential to develop executive brain functions. Whether or not these skills develop is highly dependent on experiences each person goes through from infancy through adolescence. That is a hugely important piece of the puzzle! Parents can, and do, have a huge impact on how much executive brain function develops in their child.


Parenting techniques can support the development of executive function.

1.Scaffolding: Breaking big tasks into smaller, more manageable, tasks.

Example: Instead of telling your child to get ready for bed, you can easily break this into small tasks. Either verbally give them directions or create a visual routine chart which includes brushing teeth, changing into pajamas, choosing a bedtime story, and any other parts of the normal bedtime routine.

2.Create and stick to a routine: Creating a bedtime routine, for example, helps your child know exactly what is going to happen. A set routine helps them learn how to plan and anticipate what will happen.

3. Set a timer: Setting a timer lets your child know the exact amount of time they have for whatever activity they are working on. When the timer goes off they know it is time to move on and can "regulate" themselves. Another variation is to give them a 5 minute warning before you will be transitioning into the next activity.

4. Modeling: So much of parenting involves modeling, and helping your child develop executive functions is no exception. Let them see you planning ahead by making grocery lists and using a calendar to plan events.

5. Practice: Play games to practice self-regulation. Freeze dance is a great, fun game to play with your preschooler. Turn on some music and start dancing. When the music turns off everybody freezes. Start the music back up and continue dancing. Driving in the car is another great time to practice self-regulation. Give them an action to do every time they see something. For example, clap their hands when they see a stop light. You can change up the action and certainly vary the item they are supposed to be looking at.

Many experts agree that executive functions are highly predictive of a child's future success in academics and in life. The great news for parents is that they have a huge role in the development of their child's executive functions; you can start working on helping your child develop these skills, today!




Related Articles
Editor's Picks Articles
Top Ten Articles
Previous Features
Site Map





Content copyright © 2022 by Amy Tradewell. All rights reserved.
This content was written by Amy Tradewell. If you wish to use this content in any manner, you need written permission. Contact Amy Tradewell for details.