I Fear I'm Getting Alzheimer's - Can You Suggest Helpful Exercises
Dear Debbie
I am in my early seventies and have been experiencing memory lapses. While I never forget a joke, I seem to be forgetting everything else, my keys, names, appointments. What can I do naturally to postpone the inevitable? My mother died of some kind of dementia, but in those days we didn't call it Alzheimer's. I watched the news and learned about the role of exercise. Can you suggest any that I can do at home? I don't want to spend money at a gym. (Hoping to Turn Back the Clock)
Dear Hope,
I love your spirit and hope that it inspires other readers. Humor is a wonderful tool. We tend to remember what is important and laughter and joy are the most important virtues in our lives emotionally and physically. Reducing stress will help you prevent Alzheimer's or at least lessen its severity for yourself and those around you.
Regarding exercise, you are right on the mark! Exercise will stimulate your brain, drive glucose and oxygen into it, lower blood pressure and help improve your circulatory system which impacts on the health of the brain. However, check with your doctor first!
If your doctor approves, in my book,
Turn On Your Inner Light
, I illustrate and delineate workouts for the years of gold that focus on improving stability, coordination and balance. I recommend workouts to be performed for a minimum of 2 days per week with 48 hours of rest between sessions. These workouts don't need special equipment other than a ball and can be done at home. Also, I like to recommend compound movements that help improve life function and you get more bang for the buck while you do them. Here are some sample exercises that you can do. Learn something new like exercise moves to stimulate the brain. Good health involves both the mind and the body.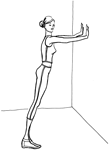 Try doing:
Wall Push-ups for the Chest - a complete upper body workout (delineated from Turn On Your Inner Light) Place hands on the wall shoulder width apart and do push-ups standing up. Hand positions change up from narrow to wide. Keep shoulders down through movement. Try to do 3 sets of 8-10.

Chair Squats: Get a chair and sit down. Rise from a seated position by pushing off the heels (curl your toes up in your shoes to help). As you rise, tighten your legs front and back and of course, the gluteus maximum and hold your arms in genie position. Try not to use your arms to help you push off. Hold in your abdominals and exhale as you rise. Never hold your breath. Try to do as many as you can. Aim for 3 sets of 8. This will strengthen your hips and legs to improve balance and bone mass. The chair keeps your back in a safe and appropriate position.

For finger and mental dexterity, turn a penny over and pick it up to help (arthritic) fingers stay nimble to button and unbutton a shirt.

To improve reaction time and hand-eye coordination: Throw a ball and catch it.

Play Simon Sez—it's a fun head to toe workout.

To improve grip strength squeeze a tennis or Koosh ball.

---

---

Debbie Mandel, MA is the author of Turn On Your Inner Light: Fitness for Body, Mind and Soul, a stress-reduction specialist, motivational speaker, a personal trainer and mind/body lecturer at Southampton College. She is the host of the weekly Turn On Your Inner Light Show on WLIE 540AM in New York City , produces a weekly wellness newsletter, and has been featured on radio/ TV and print media. To learn more visit: www.turnonyourinnerlight.com


This site needs an editor - click to learn more!


Editor's Picks Articles
Top Ten Articles
Previous Features
Site Map





Content copyright © 2022 by Debbie Mandel. All rights reserved.
This content was written by Debbie Mandel. If you wish to use this content in any manner, you need written permission. Contact BellaOnline Administration for details.