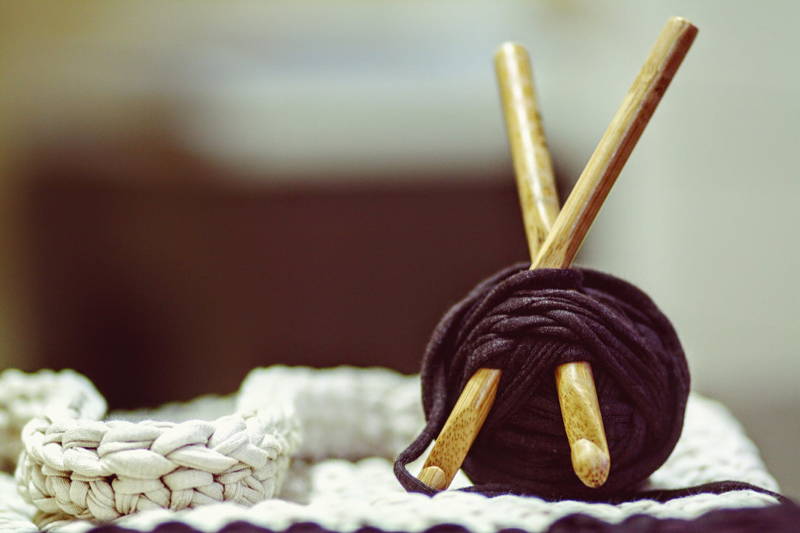 With the renewed interest in crochet many people are deciding to take up this wonderfully creative craft. Crochet is so customizable that you can crochet for years with a couple of basic stitches or patterns and not make two identical items. I love crochet and do it daily, however I do not want to do the same project again and again, with the yarns available today I do not have to. Even a beginner can add a design element, just by changing colors. How wonderful to create something uniquely your own.

There are so many avenues available today to learn to crochet. There are books, magazines, websites, leaflets, DVDs, and online videos. When I learned to crochet 20+ years ago I picked up a little kit like I Taught Myself to Crochet. They are still available today, with updated projects, I am happy to say. There are several kits available with everything you need to start crocheting, even the yarn and hooks. If you cannot find one with yarn at your local craft store there are many online suppliers, with a much larger selection if you do not care to wait for delivery. There are also basic instructions in most, if not all crochet magazines and pattern leaflets.

So you could get stared with the cost of a magazine, hook and skein of yarn. So if you're looking for an inexpensive hobby crochet could fit the bill. On the other hand, there are expensive hand dyed yarns and handcrafted hooks. So as you learn the techniques you can have your materials grow with you. The majority of yarns and hooks I started with are not the tools I use today. I have learned to appreciate quality in my tools and so will you.

If you are going to forego the kit and pick out your tools individually you will need a little beginning information.

There are many free tutorials online. Just type, "crochet tutorials" in your search engine. Choose a site with clear instructions and quality photographs. If you are a visual learner, you can use youtube to find many techniques demonstrated. There are many beginning patterns online for free. Be sure to choose one with clear instructions and photographs. It needs to have a stitch guide with the abbreviations of the stitches you will use. These free patterns will help you gain confidence before investing in books, crochet magazines, leaflets. Check out my reviews under the Gotta Have It? subject regularly for updates. Also with a small instructional kit you can pick your own yarn, the kit supplies the instructions, patterns, hooks and other useful tools. All of these avenues will explain the basics of crochet, which is founded on a variation of a few simple stitches.

Hook sizes vary from size 2.25 mm (B-1) to 19 mm (S). A number, 1 to 6, usually denotes steel hooks. These are used for fine yarns and threads. After size 6 normally a letter refers to the size of the crochet hooks. These range from G to S. The best way to determine the size is to use the mm, because the number and letters vary between manufacturers, you can find the mm on the hooks with the number and letter. The best size to begin with is between an H and J hook. I learned how to crochet with an H hook and still today it is my favorite hook. You will learn about gauge and how hooks play their part in that later on. First things first, you must learn and practice the stitches.

While there are so many beautiful yarns, not all are for beginners. You should start with a worsted weight yarn. Many suppliers use a number system to describe their yarns, the finer the yarn the smaller the number. They range from size 0, lace, to size 6, super bulky. A worsted weight yarn is a size 4. Choose a light or bright colored yarn as dark colors can be difficult to see where you are suppose to insert your hook. Stay away from novelty yarns such as eyelash and knobby yarns. Yes they are beautiful but for the beginner, difficult to work with. You will be able to indulge in them soon.

When you make your blocks of practice stitches (swatches), try to make them the same size. If they are the same size you can single crochet (sc) around each block evenly and after learning the basics, whip stitch (you will learn this and other joining methods in your instructions) them together. You will have a nice lapghan to enjoy.

Please join me in the Crochet Forum for more discussion and help on learning the basics of crochet. Also let me know what you think of the article and what you would like future articles to feature.




Related Articles
Editor's Picks Articles
Top Ten Articles
Previous Features
Site Map





Content copyright © 2023 by Carla McCune-Cano. All rights reserved.
This content was written by Carla McCune-Cano. If you wish to use this content in any manner, you need written permission. Contact Holly Messenger Aamot for details.