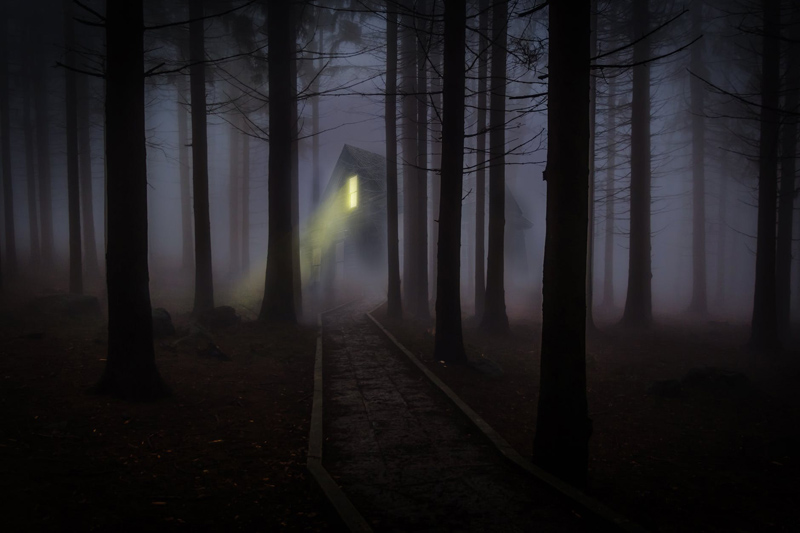 The Woman in White began as a novel by Wilkie Collins, published in 1859. One of the most popular authors of his day, Collins created very complex and puzzling mystery stories, with a hint of strange and possibly supernatural goings-on that were so loved by Victorian readers.

Two of Collins' novels, The Woman in White and The Moonstone are regarded as classic mysteries and precursors of the modern thriller genre. Both stories have been adapted for the big and small screen, and The Woman in White even became an Andrew Lloyd Webber musical. Warner Brothers' studio brought the story to Hollywood for their 1948 adaptation, directed by Peter Godfrey.

Artist Walter Hartright (played by Gig Young) has accepted a post as drawing teacher to a young heiress. Arriving by train at night, Walter finds that no carriage has been sent to bring him to Limmeridge House and so he must walk a dark, lonely road to get there. Walter becomes aware that someone is moving through the woods that flank the road; it is a woman, dressed all in white. Though emotionally distressed, she manages to tell Walter that she is Anne Catherick and that she also has a connection with Limmeridge House, but begs him to tell no-one he has seen her.

This introduction to the mystery is very effective. We know that Walter is on his way to a house that holds some secret, which must be somehow tied to Anne Catherick and her seemingly unbalanced state.

The mystery deepens when Walter meets his pupil, the beautiful Laura Fairlie, and is stunned by her close resemblance to Anne Catherick. How are the two women connected? Is Anne really a poor mad woman who has escaped from an asylum? Why is the sinister Count Fosco such a frequent houseguest at Limmeridge? And could the prospect of Laura's large inheritance play a part in all the mysterious happenings?

It has been suggested that Warner Brothers decided not to base The Woman in White on Wilkie Collins' novel after all. That is going a little far, but it's true to say that this adaptation prunes the novel quite drastically, as well as making changes to the original story. I think this was a necessity, as the movie's running time of 109 minutes couldn't possibly convey the entire, complicated plot.

Taken at face value, The Woman in White is an old-style mystery movie that goes along at a cracking pace and keeps the viewer's attention. The cinematography is very good, with atmospheric shadows creating contrast between the superficially normal life of Limmeridge House and its dark underside.

The acting is extremely good for the most part. Gig Young is not entirely convincing as a sensitive artist, but he's handsome, and does well in the more active elements of his role as Walter Hartright.

Actress Eleanor Parker plays the dual role of Anne and Laura, and makes a fine job of presenting their different characters. As Anne she is damaged but still strong, with just the right aura of mystery. Laura is portrayed as a pretty, well brought up girl, whose character grows stronger as she learns the truth about herself and her circumstances.

Wilkie Collins created Laura's cousin, Marian Halcombe, as a counterpoint to Laura's conventional mildness. Actress Alexis Smith, a striking brunette, is perfect as Marian, and gives a down to earth strength of character to her role.

Count Fosco is portrayed by the excellent Sydney Greenstreet. No actor could make Fosco more ominous or more silkily manipulative than Greenstreet.

Last but by no means least, is John Abbott as Laura's hypochondriac uncle, Frederick Fairlie. Abbott was a British born character actor who appeared in innumerable movie and television roles. His portrayal of Frederick Fairlie could so easily have crossed the line into farce, but Abbott reins in his performance and makes it believable and extremely funny.

The 1948 adaptation of The Woman in White may not be an entirely faithful retelling of Wilkie Collins' story, but it is an enjoyable mystery and sure to be appreciated by classic mystery fans.

Note: I watched The Woman in White when it aired on the TCM channel.







Related Articles
Editor's Picks Articles
Top Ten Articles
Previous Features
Site Map





Content copyright © 2023 by Grace Rostoker. All rights reserved.
This content was written by Grace Rostoker. If you wish to use this content in any manner, you need written permission. Contact Grace Rostoker for details.