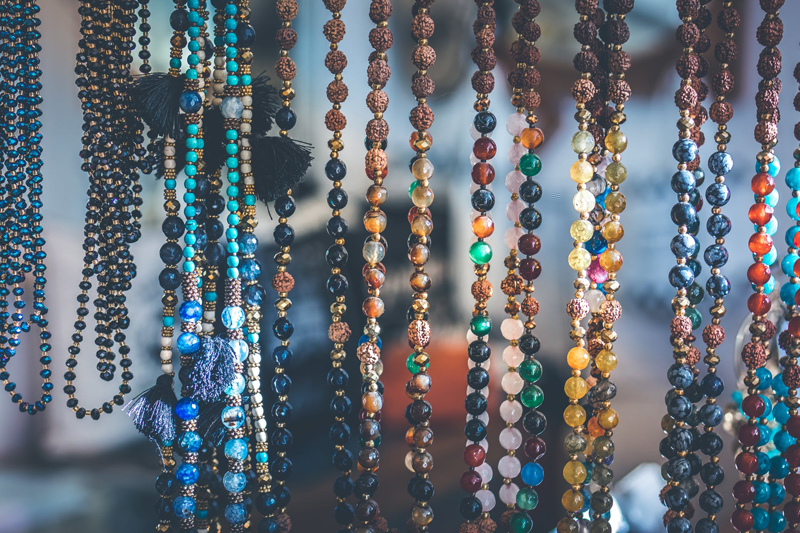 Spirals are a very traditional part of Celtic art. Intricate designs with spiral elements like a triskele are common and lovely. Spirals also occur frequently in nature. Like the Fibonacci spiral that the seeds of a sunflower form or the elegant spiral of snail.
Making them out of wire requires a little bit of patience and practice. Copper wire is perfect for learning on. It's inexpensive, but it's also a very wearable metal and very popular right now.
To make a pair of these ear cuffs will take 27 inches of 18 gauge round wire. You can get copper wire very reasonably from
Rings and Things
.
Supplies:
27 inches of 18 gauge copper wire
round nose pliers
chain nose pliers (chain nose pliers have a flat jaws which taper to a point)
wire cutters
file- a nail file will work
2 5 mm round beads- my example is green fiber optic beads
hammer- doesn't have to be a good jeweler's hammer. I used one that came with a home improvement kit!
bench block or similar surface to hammer on - My first bench block was actually a big bearing from a train.
Permanent marker
Stick pen, knitting needle or similar mandrel
Cut the wire into 2 8 inch lengths, 2 4 inch lengths and 2 1.5 inch lengths.
Spirals- made from the 8 inch lengths
The trick with turning spirals is that you turn the first part on the round nose pliers, then hold that loop flat between the jaws of the chain nose pliers and start coiling the wire around that, shifting the grip as needed to wrap the wire around that center point. My illustrations are not to scale, and apparently, I can turn the wire spiral better than I can draw it! Leave the last half inch unwrapped, then turn a loop using the round nose pliers in the opposite direction of the spirals turn.
Make the second one to match, and hammer both until they are flattened a bit. Hammering them strengthens the metal to keep the spiral in place and creates visual interest.
Now for the ear cuffs. Using the 4 inch pieces of wire.
Measure to the center of each piece and mark it with the marker. Then measure a half inch out from the center in each direction and mark that. Now you will make what looks like a very wide S curve making the bends on those marks. Then use the round nose pliers to turn loops on the top and bottom of the S curve until they are in line with the center of the wire.
Make the other to match checking it as you go against the first one.
Hammer both until they are slightly flattened, but not too hard, you still need to curve them.
Curve them around the mandrel. I used a stick pen as my mandrel, and started the curve with the base of my round nose pliers.
Make the links with the beads and the 1.5 inch pieces of wire. There will probably be a little excess to trim. The wire is short enough that it doesn't need extra strengthening. Make simple loops, not wrapped loops.
Now use the links to attach the spirals to the ear cuffs, making sure the spirals face in opposite directions. Ear cuffs and earrings usually look best in mirror symmetry.
Have fun wearing them, and thinking of other things you can do with the same techniques.
You Should Also Read:
Wrapped Loops
Brass Filigree Ear Cuffs
Ear Cuffs


Related Articles
Editor's Picks Articles
Top Ten Articles
Previous Features
Site Map



Follow @shala%5Fbeads
Tweet





Content copyright © 2023 by Shala Kerrigan. All rights reserved.
This content was written by Shala Kerrigan. If you wish to use this content in any manner, you need written permission. Contact Shala Kerrigan for details.