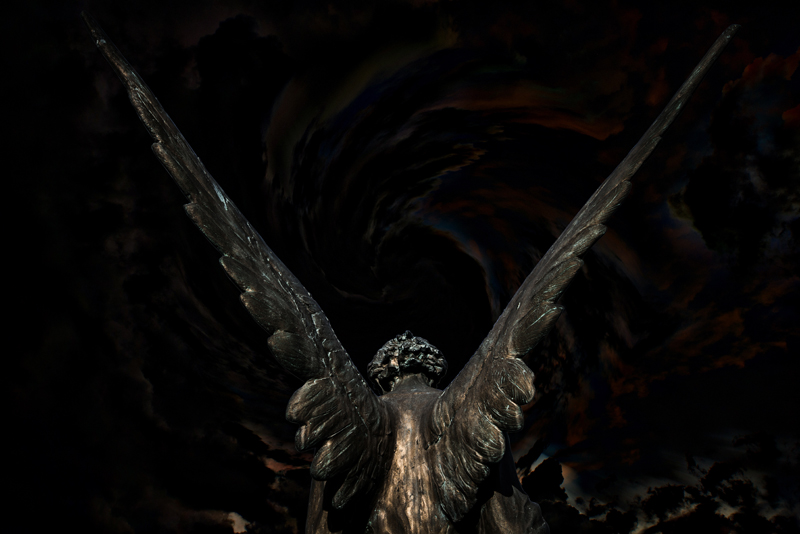 I caught up with Norwegian musician Mortiis (from the band that bears his name) about his upcoming 2007 record Some Kind of Heroin.

Morley: What can you tell us about your next record in terms of direction or conceptual framework?

Mortiis: The direction is pretty hard and attacking as it looks right now, very angry. It's got a lot of industrial crossover type elements to it, but I always like to mix in a lot of moody and atmospheric stuff too so there's a lot of that in there as well.

Morley: Your more recent work opted for a more industrial, guitar-driven direction. Can we expect you to continue along a similar path for the next one?

Mortiis: Yes the crossover type stuff is definitely going further down that route so to speak, I grew up on hard rock music and got into synth music at a later stage in my teens so the combo is great. Working with guitars feels very natural to me.

Morley: What ideas/events have inspired some of the material for this record?

Mortiis: I think it's the next step in the process, the anger and frustration on The Grudge feels less like my fault, as it feels like I should be blaming whoever put me in that state of mind for so long in the first place. It's the final phase I hope, finally placing blame where blame should have been placed at the very beginning. Not with me but with the b*stards that f*cked me over and kept me down. I still ask myself a lot of questions on this album but at the end of the day it's a lot more outwards looking than introspective.

Morley: When you write material, do you write with a visual presentation (live shows or videos) for it at the same time, or is it just written and you work the other stuff out after the fact?

Mortiis: I work the other stuff out after the fact. I try not to worry too much about live versions, etc, and so far our budgets have been at the level of what Brazilian street kids would laugh at. We never had label support unless we were willing to trade our children for it, so we quickly learnt to skip label support. Anyway we usually just wing it live, which is pretty rock´n´roll. I guess we're getting better at capitalizing on sh*tty deals and situations.

Morley: Does Norway (or any other location) have an effect on your songwriting?

Mortiis: Not really. Nature and heritage is fine but it has nothing to do with my music or where I get my inspiration from. Although, if I wanted to get political, the Norwegian government is pretty Nazi and Norway is not a pleasant place to live in terms of the fact that the bastards tax you to death every chance they get. This country is absolutely insane when it comes to taxes and fees and generally being crazy about making sure your money goes back to the state account as quickly as humanly possible. What they spend the money on is a mystery as well. Seniors in retirement homes gets 2 showers a week due to cutbacks. 40 cars just went off the road because the local authorities didn't salt the icy roads because there was no money so I'm sure insurance companies are having a hoot about that. We are the richest country on earth or close to it, and our cars and roads ranks as the worst on earth… Where's the f*cking money going? I should write an album about these f*cking liars, or invite Al Jourgensen over for some more inspiration for when Bush gets stoned out of office the Saudi Arabian way.

Morley: What input, if any, from the band, songwriting-wise, is involved in the making of a Mortiis record?

Mortiis: Not so much to be honest… I mean I always wrote the songs myself, and Levi comes down and we track or develop the guitars. The guitars, etc., are usually worked out before he comes, and then he translates my synth lines (that demo as guitars) into actual guitars, that part is usually a collaboration, and he does the engineering when I demo vocals. On this album I like to track vocals as early as possible in the writing process as I like to have them there as I write the songs and work on them further… gives me a chance to write something around the vocals if needed. Instant feedback on whether or not it works type of thing.

We work a little closer together when we rehearse, as we always change bits and pieces to make it fit for live… that especially applies to older songs that were quite different from what we do now, and changes needed to be made, a lot of that was done at rehearsals, and most of the band would have some input there.

Morley: You have a remix record apparently due out early this year as well. What can you tell us about that?

Mortiis: Actually there's been a lot of back and forth about that album, I hope we're doing it but at the moment we're still negotiating with the label. We'll be sure to post news all over the place once it happens. The line up of bands is really cool.

Morley: Some of your older catalogue is getting reissued. Are you hoping that newer fans will have more of an incentive to check out your older stuff this way? Is there anything different from the original releases?

Mortiis: Well Earache reissued a few older albums. It was really more a matter of them wanting to reissue them and they owned them, so I decided it was worth doing if they were reasserted, and then someone had the idea to redesign and put liner notes in, so I chose Tommy Udo to write the liner notes, which turned out really good. The packaging is different somewhat, they all have pretty cool slipcases in some kind of leather imitation and they all look really uniform.

Projekt put out 2 other albums that haven't been available for a long time so that was cool… They're out as digipaks which differs from the originals, and one of them also had pretty much all the artwork redesigned, so those 2 look kind of uniform as well.

I don't know about the newer fans discovering the old stuff etc, I just agreed to do it, to be honest it didn't occur to me to sell back catalogue to new fans, but I guess I wouldn't cry if they bought them J

Morley: What are your plans for 2007?

Mortiis: Finish the new album, and tour as much as possible. For years we have been plagued with lame marketing and unfocused promo, I really hope this will change in 2007.

Morley: Anything else you would like to tell us that I didn't ask?

Mortiis: Check out mortiis.com and myspace.com/mortiis1 for updates on tours and the album. We also have music for DJs and radio, just check our website for information.


Related Articles
Editor's Picks Articles
Top Ten Articles
Previous Features
Site Map





Content copyright © 2022 by Morley Seaver. All rights reserved.
This content was written by Morley Seaver. If you wish to use this content in any manner, you need written permission. Contact Morley Seaver for details.