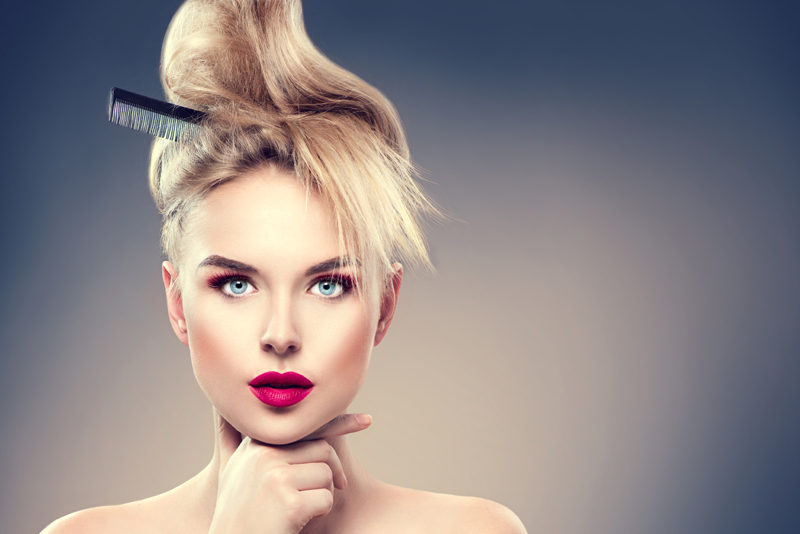 The great thing about makeup is that you can create any kind of look you want, from glamorous to avant-garde to natural. There's no doubt that wearing makeup helps people look their best, and many like a glamorous look. Others simply want the beauty-boosting benefits of makeup. But still want to look like they're not wearing it. It's a great daytime look. For mature faces it looks more youthful than heavy makeup. Creating a "barely there" or natural look just takes the right products and techniques.
Foundation
Choose a light formula that matches the natural skin color as closely as possible. Heavy foundations that don't match skin tone won't look natural. To get a close match, test products on the jawline. If the color easily blends with natural skin tone, it's a match.
Use foundation only where it's necessary – areas of discoloration, blemishes or any area that needs coverage. Blend it in well using a sponge or with a stippling brush like MAC's number 187. Blend foundation into the skin with a circular motion using a brush. Then reverse the direction of the brush until the foundation is undetectable. View the article called "Minimizing Large Pores" for more information on this technique. You'll see it under "Related Links" below.
Concealer
Use concealer sparingly and choose a natural-looking product. Amazing Concealer by Amazing Cosmetics is a great choice. It's highly pigmented, so a small amount goes a long way. It blends easily and yields a natural-looking finish.
Powder
Lightly dust powder on only where needed. Use a soft powder brush. For many people the tip of the nose or t-zone areas tend to shine, especially for those with oily skin.
Eyeshadow
Keep eyeshadow light and use neutral colors. Try one of Urban Decay's Naked palettes. To keep shadow in place, use an eyeshadow base like Urban Decay's Eyeshadow Primer Potion.
Lashes
Skip mascara (or use clear mascara) for a more natural look. There are plenty of alternatives that still enhance lashes without the clumps or the raccoon look that happens when it runs. View the article called "Alternatives to Mascara" for more information. It's under "Related Links" below this article.
Brows
Avoid drawing a hard-edged brow on with a pencil. Instead, opt for a cake brow makeup, like NYX Eyebrow Cake. Choose a color that matches the natural brow color and brush it onto brows. Remove any excess or mistakes with a dampened cotton swab. Never use black – it ages most women. If brows are naturally black, choose a charcoal-colored brow makeup.
Eyeliner
Instead of drawing a thick, dark line on the lash line, use a kohl pencil in brown, dark brown, or black. Using a sharpened eye pencil, darken the spaces between lashes. Buff any mistakes away with a cotton swab. This technique puts emphasis on the eyes but still looks natural.
Blush
It's important to choose the right color to create a natural look. Go for a blush in a natural-looking shade that complements skin tone. Lightly dust it onto cheeks, chin, and forehead for a sun-kissed look. Use a soft brush to apply it. For younger skin, dust it on the apples of the cheeks (smile to find the apples of the cheeks). More mature faces need to place blush a little higher for best results.
Lips
Several products work well for creating a natural look.
Use a lip stain, like Benetint by Benefit. It can be used on cheeks, too. Though the color looks bright in the bottle, it's actually quite natural looking when applied and can be built up to add color. It adds natural-looking color and lasts for hours.
Try using a lip pencil in a natural-looking color or slightly darker. Set it with powder to increase its longevity, if desired. Some may find this option a bit drying.
For those with dry or chapped lips, use a tinted lip balm. They moisturize lips, and some even protect lips with an SPF. They're sold at Sephora, Target, drug stores, or online. Try NYX Butter Lip Balm.
Use a lip tint. Lip tints provide sheer color. Try one like Tarte's LipSurgence, which offers moisturizing benefits, too.
For those who want a natural-looking makeup, it's important to choose the right products. Luckily, there are a lot of options available. Using the right techniques with these products gives women a natural, "barely there" makeup look that enhances their beauty without looking overdone.
You Should Also Read:
Alternatives to Mascara
Minimizing Large Pores


Related Articles
Editor's Picks Articles
Top Ten Articles
Previous Features
Site Map





Content copyright © 2023 by Kimberly Williamson. All rights reserved.
This content was written by Kimberly Williamson. If you wish to use this content in any manner, you need written permission. Contact Katrina Simmons for details.