Guest Author - Lisa Linnell-Olsen
Casting on is the beginning of all knitting projects. There are several methods for casting on, with their own characteristics that causes some cast-ons to be better for certain projects or skill levels than others. The single cast on is basically a series of backwards loops that is placed on the knitting needle. Its main advantage is its simplicity. This is a good cast on for people just learning how to knit, especially children. It produces a firm, not stretchy edge.
The cast-on edge can be a little difficult to maintain good tension and consistency. As with all cast ons, it is also easy to get it too tight. The best solution for the tightness issue is to cast on to a larger needle than you plan to use, or to cast on to two needles, and then remove one after casting on to begin knitting. For this tutorial, I will be using two needles in the pictures. You may use one larger one if you wish.
Step 1
Begin by making a slipknot on your needles. You can do this by first creating a loop like the one held in the picture below where a loop is made and the tail is held behind it.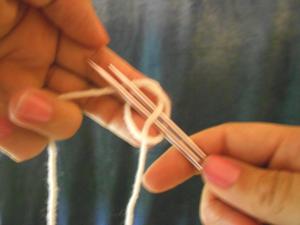 Step 2
Next, use you needles to pull the yarn that is behind through the loop.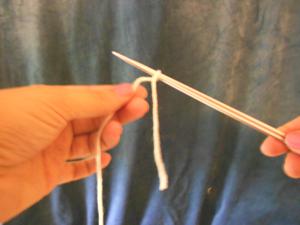 Step 3
Tighten this onto your needles. This is your slip knot, and your first cast stitch.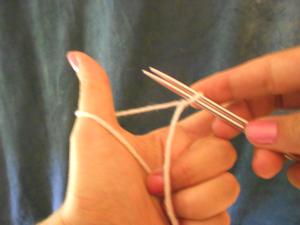 Step 4
Next, pull the yarn across the bottom of the left palm and wrap it around the thumb. Extend the left index finger. Use the three other left fingers to secure the ball end of the yarn to the bottom of your palm. Pull the yarn across your closed left palm. The waste end of the yarn should just be dangling.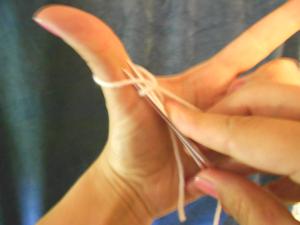 Step 5
Now, insert the needles into the thumb loop by going underneath the lower strand of yarn. The tip of the needle should parallel your thumb, and be between both strands of yarn.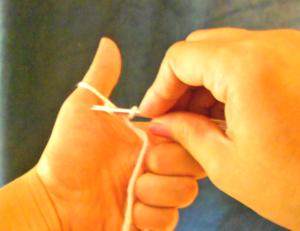 Step 6
Next, put the tip of the knitting needles over the top strand, then loop it behind and underneath both strands.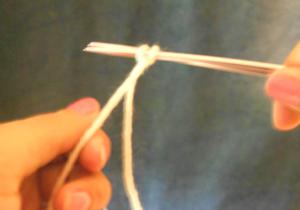 Pull your left thumb out and pull the yarn snugly onto the needles.
Steps 4 -6 are the steps you need for doing the actual single cast on.
Repeat steps 4-6 until you have the number of cast on stitches you need for your project. Once you have the required number of cast on stitches, either remove the extra needle to begin knitting, or transfer to the smaller size needles you plan to use for your project.