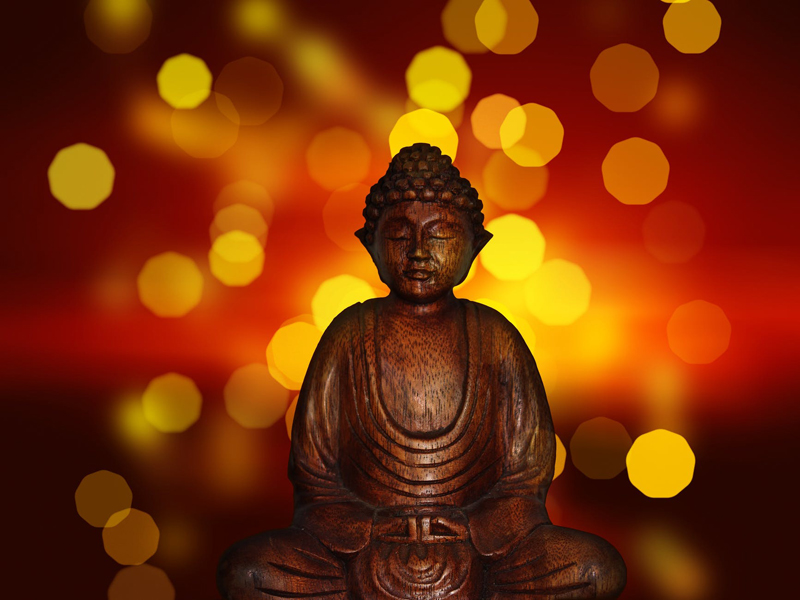 Many places are held sacred by the various
branches of Buddhism
, mostly within Asia. The four most well-known are all sites of major events within
the Buddha's life
.
Lumbini
, in southern Nepal, was the Buddha's birthplace, and is designated as a UNESCO world heritage site. Although somewhat remote compared to many other Buddhist pilgrimage sites, both Theravada and Tibetan monasteries are located nearby. Recent excavations have uncovered signs of many stupas and monastic dwellings.
The most well-known Buddhist sacred site in the world is probably
Bodh Gaya
in India, site of the bodhi tree under which the
Buddha realized enlightenment
. Also a World Heritage site, thousands visit Bodh Gaya every year, to visit a descendant of the original bodhi tree (shown to the left), as well as an adjacent temple, and meditation centers run by several different
branches of Buddhism
.
Also in India is
Deer Park
at Sarnath, just north of Varanasi, and site of the Buddha's first teachings –
The Four Noble Truths
. The park is now home to many beautiful stupas, monuments, a temple and museum.
In Sri Lanka, a set of 16 sacred places, all believed to have been visited by the Buddha during his lifetime, are called the
Solosmasthana
. After the decline of two ancient kingdoms in Sri Lanka, Anuradhapura and Polonnaruwa, many of these sites were left in decay. They were rediscovered and renovated in the 20th century, and most are home to countless stupas and monuments today.
Not all Buddhist sacred sites are based on the Buddha's life, or on human history. In the Tibetan Himalayas,
Mount Kailash
(right) is held sacred by Buddhists, Bons, Hindus and Jains. No one is allowed to climb the mountain for this reason. Thousands circumnambulate the mountain every year, many in a series of full prostrations.
Also held sacred by Tibetan Buddhists is the city of
Lhasa
, home of the Potala, the Dalai Lama's historical residence. Although now held by the Chinese, the Potala Palace was not destroyed by them as many other Tibetan Buddhist sites were, and is maintained as a state museum. The Jokhang monastery near the Potala has also survived and may be visited.
Many Buddhist sacred sites are based on the Buddhist art and monuments created and housed there. In Japan,
Nara
and
Kyoto
are two of the most well-known Buddhist pilgrimage sites. Kyoto houses exquisite Zen temples from the Heian period, complete with diverse Zen gardens. Nara was the imperial 8th century capital of Japan, and houses countless temples and shrines, including the Todai-ji temple with its huge bronze Buddha statue (left).
Within China, there are several sites of beautiful Buddhist art, including the
Caves of the Thousand Buddhas
, located in Dunhuang. In Cambodia, the Buddhist
Angkor Thom
is once again accessible for visits, near the Hindu Angkor Wat. Like many temples, the layout of Angkor Thom was considered a model of the Buddhist universe. It also has many Hindu influences, based on the unique branch of Buddhism that evolved there.
There are many more sacred Buddhist places. For pictures and more information on most of the sites covered here – in addition to sites held sacred by other spiritual traditions around the world – try
Sacred Places
by Phillip Carr-Gomm.


Related Articles
Editor's Picks Articles
Top Ten Articles
Previous Features
Site Map



Follow @mommymystic
Tweet



Content copyright © 2023 by Lisa Erickson. All rights reserved.
This content was written by Lisa Erickson. If you wish to use this content in any manner, you need written permission. Contact Lisa Erickson for details.