Beaded Hair Extension Ideas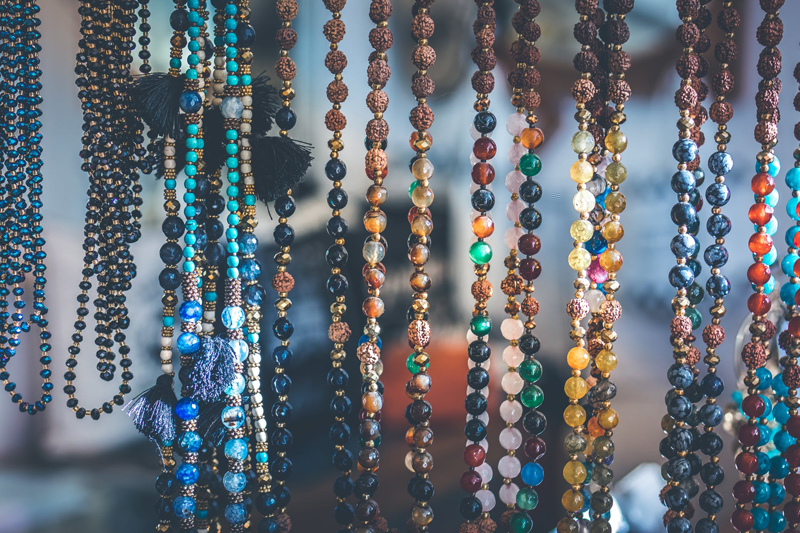 You've all seen the feather hair extensions that became so popular so quickly right?
What makes those possible is a newer method of doing temporary extensions that doesn't involve gluing or sewing in the extensions. They are called micro links.
Micro links are aluminum crimp beads that are lined with silicone. To put them in at home, you can use a steel crochet hook. Put as many of the micro links on the shaft of the crochet hook as you want to have in your hair. Part your hair just over where you want the link, you want a layer of hair to cover the link. Hook just a little bit of the hair and slide the link on to the hair, pulling the hair through the link.
Now put the hook in through the top of the link to pull up your extension through the link.
After that, you just crimp the bead shut. While there are pliers available especially for these beads, I just use my standard chain nose pliers to close the beads. The micro links come in a lot of shades that will match most hair colors so they aren't very noticeable when they are in.
In theory, you can uncrimp and re-use them. I've never managed to open one neatly enough to reuse them, but they are pretty inexpensive. If you choose something that can handle your normal hair care, you can wear a micro link extension for a week at a time.
With all the fiber options out there, this means you can have absolutely unique extensions that have beads in them.
Modeled by my daughter, this extension has been washed a couple times and just left to air dry with the rest of her hair. She pulls it out of the way when she's combing her hair.
To make this extension you'll need:
Size 10 bedspread weight cotton
size 8/o seed beads in various colors
Size 8 steel crochet hook (1.5mm)
Tapestry needle to weave in ends
Micro link- I used a 5x3mm micro link with a 5mm outside diameter and a 3mm inside diameter
Start by figuring out how long you want your hair extension to be, then multiply that number by 3 and thread your size 10 thread with that many beads. If you want to have a button or a charm on the end of your hair extension, thread that on last.
Make a chain as long as you want your hair extension. Slide your first bead or button up to the thread and slip stitch in the last chain, chain 3, skip 3 stitches. Then you'll do a beaded single crochet.
Insert hook into the stitch, slide bead up, yarn over, pull loop through stitch, yarn over, pull through both loops on hook. Continue that way up the chain, (chain 3, skip 3 stitches, beaded single crochet) until you're about an inch from the end, the slip stitch the last few stitches.
Break off thread, and tie the starting thread and end thread together. Use the tapestry needle to weave in the ends.
If you want something more temporary, snap clips or toupee clips work well, and with those you can use beads and buttons you wouldn't want to wash.
You can find both micro links and snap clips for hair extensions on Ebay. (affiliate links)
Find micro links on Ebay.
Snap Clips for Hair Extensions on Ebay
Other ideas that would work well in micro links are yarn, micro macrame like this
friendship bracelet
and some ribbons.
*Affiliate links in an article provide a small income directly to me*
You Should Also Read:
Simple Beaded Friendship Bracelet
Beaded Hair Clips
Book Review- Ann Benson's Tapestry Bead Crochet


Related Articles
Editor's Picks Articles
Top Ten Articles
Previous Features
Site Map



Follow @shala%5Fbeads
Tweet





Content copyright © 2023 by Shala Kerrigan. All rights reserved.
This content was written by Shala Kerrigan. If you wish to use this content in any manner, you need written permission. Contact Shala Kerrigan for details.