And So You Were Born Review
Twin Peacocks Publishing approached me to review Mona Parsa's interactive, i-application for children – 'And So You Were Born'.
'And So You Were Born' has been crafted keeping in mind the delicate needs of children between 2 and 5 years of age. The script revolves around a single theme that is the pillar of all religious beliefs – love. Every child deserves to realize that he/she is loved and Mona Parsa's 'And So You Were Born' is a staunch affirmation of this.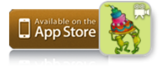 Fully realizing the limited attention span of young readers and the need to keep up with a child's ability to grasp spiritual truths, 'And So You Were Born' has been designed as an interactive tool to be played on iPhone, iPad and iPod Touch applications.
The application includes interesting features like pre-recorded narration, soft background music, fascinating sound effects, colorful pictures and short quotations from major faith systems. Besides these there is also a coloring page and two games for children. On an average the application runs for 20 minutes. But with so many exciting features, children are sure to get engrossed in it for hours.
Unlike a book which could make a reader feel lonesome after a while, there are a whole lot of unique offerings that 'And So You Were Born' has in store which will make children feel close to parents or loved ones. There is an option for parents/guardians or the child to record their voice while reading, take a video while quoting from religious texts (possible only where video recording capability is available in the i-application used) and personalize text that appears on the screen to include the child's name, date of birth and names of parents or loved ones. Parents or caregivers and children can choose to change and save voice, text and video recordings any number of times.
The application runs just as well even when these advanced features are not used. Pre recorded narration makes it possible for even young children who are unable to read to follow the text.
The underlying theme of 'And So You Were Born' being God's love, there is one screen where short quotations from 7 religious systems (Zoroastrianism, Buddhism, Christianity, Judaism, Hinduism, Islam and Bahai Faith) are displayed. Parents or guardians can video record themselves in this screen alone and even choose to add more quotes pertaining to a particular belief or keep only a few quotes that appeal to them. However there is no option to turn off this feature if parents desire their children to use the application without referring to religion.
Lot of special effort has been made to ensure that 'And So You Were Born' has universal appeal. The pictures show children belonging to different nationalities; religious quotes have been taken from different faith systems practiced world over and there is one screen which shows popular locations from across the globe.
There is reference to 'God' at several points in the text. Parents who choose to direct their children to their own faith using 'And So You Were Born' will need to take the precaution to explain their faith and the God they believe in so children can use this tool to understand their religion better.
On the whole I believe that 'And So You Were Born' is a useful tool for parents and caregivers to help their children feel loved and live a life worthy of the love they experience. While most children's books and resources only entertain, 'And So You Were Born' goes beyond to enlighten the minds of young readers.
Click to buy And So You Were Born
This site needs an editor - click to learn more!


Related Articles
Editor's Picks Articles
Top Ten Articles
Previous Features
Site Map





Content copyright © 2022 by Preena Deepak. All rights reserved.
This content was written by Preena Deepak. If you wish to use this content in any manner, you need written permission. Contact BellaOnline Administration for details.