The author faces many things in life that would keep most people from even attempting to write. How does he handle these daily challenges? Why did he choose to become first responder? And what did he learn while in the Coast Guard?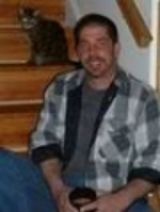 You have faced things in your life that would keep many people from even attempting to write. For example, you are dyslexic. Besides dyslexia, what else have you experienced that would slow most people down? Why do you not look at these as obstacles to your writing? Can you share with us how you have overcome these hurdles that would stop most people dead in their tracks?
Everyone is faced with challenges in their life. Yes, Iím dyslexic as are many other people. I never really learned to read or write until I was eighteen. It was then I met a doctor who taught me to read using visual rehab techniques. It was hard for me as a young adult to sit in a learning center filled with seven and eight-year-old children, but the pay off was well worth it. I went from reading one book,
The Outsiders
, to reading everything I could get my hands on. It started with
The Lord of the Rings
trilogy which really sparked my love of books. As a child, I also had an 80% hearing loss. Once my hearing loss was corrected, a profound stuttering problem began. This made it very hard and frustrating to speak to people. In time, with the help of my mother slowing me down and forcing me to really form the words in my head before I spoke them, I was able to overcome the stuttering problem. Ten years ago I was diagnosed with MS. Iím still going through bouts of rehab, which follow each exacerbation or flair up of MS. I have had to relearn how to walk, talk, see, and do all the things I love. Iím not unique. Most people, if they look back on their lives will find hurdles, small and large, they had to overcome. As for the dyslexia, Iím still a very slow reader, but my computer reads to me when I need it to. Spell check is a wonderful thing, but the most important is an understanding editor.
I understand you had a fear of needles, yet you became a first responder. How did you conquer this fear?
I had this horrible fear of needles as a child. I was a very sickly, always in and out of hospitals. There was one doctor who gave me an injection, but when she did it went straight to the bone. The pain was so intense I lost it; it took three people to hold me down. I donít think the doctor was even able to finish. When I went to school to become a paramedic, I was scared to death. We had to practice giving each other shots. I had no choice, so I threw my arm up and closed my eyes. Around a hundred needle sticks later, my fear was gone.
What was the one thing you learned while in boot camp for the Coast Guard?
Funny thing, Iíve never been one to take orders well, but when I went through boot camp at 24-years-old, older than most, I recognized the game the company commanders were playing. I recognized how they broke the recruits. I would explain the game to the ones on the edge of breaking and help them through it. When it was found out by the company commanders, I was put through hell. I had to go through boot camp almost three times before I graduated. Getting through that was one of the worst mind games I have ever had to endure. It was at that point I realized that once I set my mind to something, there wasnít anyone or anything that could stop me.
In
Richard Petracca - Inspiration
, this author reveals where his inspiration for this novel came from.
If you would like to purchase a copy of this book yourself for your own reading pleasure, I have provided an Amazon link below.