When did this author first feel the desire to write? Did he plan out the book before he wrote it? How much research did he have to do?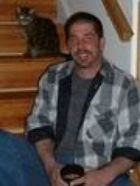 When did you first feel the desire to write?
I still donít know if I was meant to write. I love telling stories and entertaining people, just to see how far I can get before someone calls me on the bull in the story. To write as a living would be a dream come true but for now, Iíll keep my day job. Of course, Iíll continue to write and try to get my work out to anyone who enjoys reading it. I also like the people Iíve met since Iíve started writing. So writing will be a big part of my future.
Do you plan out the entire book before you begin writing? Or do you just sit down and write?
No, it starts with an idea and a loose storyline in my head. At that point, a character or two will pop in my head, and as I sit at my laptop a scene will come to mind either from a place I like to go or a picture I liked, then the character takes it from there. Itís kind of like watching a movie in my head and my job is to write it down. If an idea comes to mind I jot it down in my idea book. If it fits into the book I'm writing Iíll use it, if not it may or may not end-up as part of another story.
Your book had a lot of foreshadowing in the book. Did you plan out all of that? Or did it just kind of happen?
The foreshadowing, really that depends, a lot of the time it just happens. As I write a character will say or do something odd. Remember itís like watching a movie for me. What the character said or did gets stuck in my head, but later on in the book the reason that character did what he did or said what he said becomes clear. Sometimes I donít even realize Iíve done it until someone else reads it and asks me if I planed that. Other times if a character doesnít pop for me, I plan out their death and give a hint of whatís to come.
Do you have a set time that you write each day? Or do you wait to be inspired?
I do my best work in the mornings, but my schedule and the fact that I do get lazy doesnít lend itself to a specific time for me to write. Sometimes Iíll get so into a book Iíll write every day, then months go by and I donít write a word. It is a real hit or miss thing. Iíd love to be disciplined enough to have a set time to write. That would make my books so much faster to get down on paper.
How much research, if any, did you have to do for this book?
Researching is one of the things I love to do. Reading up on things I find interesting is so much fun. It also helps me to get through the blocks I get when I write. Research also gives your story a believability it wouldnít otherwise have. So yes, there are a plethora of reasons I do a lot of research when I write.
What is your favorite genre in which to write?
That question has yet to be answered. I know I wouldnít like to write a textbook. I really do enjoy writing general fiction and fantasy. There are so many different genres that it is hard for me to decide which one is my favorite to write.
What kind of books do you like to read?
Fantasies are my favorite. When I read, I want to be taken to a place I've never been to before or doesn't even exist. I want to get lost, not only in the story, but in a completely different world. Whether the book has its roots in the past or in the future doesn't make a difference as long as anything is possible.
In
Richard Petracca on Self-Publishing
find out about experiences this author has had with publishers as well as his views on self-publishing.
If you would like to purchase a copy of this book yourself for your own reading pleasure, I have provided an Amazon link below.