What new doors have opened for him because of his writing? How does he divide his time between family, friends, and writing? What advice does he have for writers?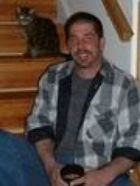 What new doors has your writing opened up for you? Were there any opportunities that you had never considered before?
The most important door writing has opened for me is the door into my own mind. Even after being told because of my bad report cards and the poor grades I received that English and writing weren't for me, I learned that I could be creative with words and others would like what I wrote. That by itself is a huge door. Iíve met so many wonderful people with incredible minds that it blows me away. The friends Iíve met due to my writing are just wonderful people. The doors opened by my writing have changed my life forever.
Do you ever become bored with what you are writing? If you do, how do you get past that point?
No, if a story isnít really grabbing me it wonít grab anyone else, so to the slush pile in my computer it goes. I will then start over with a new idea or do a little brainstorming to come up with something no one else has done. I love taking an old story and writing it in a completely new light, something that will make a reader curse aloud when they realized what happened.
What do you look for when you buy a book?
My favorite books to read are ones that can take me far away from the world I live in. Not that my world is a bad place, but when I read why would I choose to stay where I am? Why not go to another world or place, even one that doesnít exist except in the head of the author who was kind enough to let me tagalong for a wild ride? I love to be drawn into a story when I have no clue where the author is going, a story whose characters I can relate to. When I choose a book something within the first paragraph something must grab my attention, must make me want to say sh** aloud in the bookstore.
How do you manage to balance your time between family, friends, and writing?
I need a lot going on around me to concentrate. I canít be stuck in a quiet little room alone when I write. I do a lot of writing while at work with alarms and bells going off around me, or at home with my friends and family talking to me. Otherwise I fall asleep and nothing gets done besides a long nap, then I canít sleep that night. Looking at it, I guess I manage my time by smashing it all together.
If you could spend one hour with just one person, whom would you choose?
There are so many people with great minds out there that I would love to sit and have a cup of coffee with. My favorite poet is Maya Angelou. Just to sit and listen to her reading what she has written can bring me to tears. Her voice is one of the most beautiful sounds Iíve ever heard. I would love to be a fly on the wall while Albert Einstein and Steven Hawking discuss the universe around us. To sit with J.R.R. Tolkien would be a dream come true. It was his work that changed me the most. He is the reason I fell in love with the written word.
Do you have any advice for writers who are striving to be published?
This is the easiest thing to say and one of the hardest things to do. Never stop, never give up, never let anyone tell you that you canít. If one thing doesnít work, then change it and try again. Do it over and over until you find the one thing that does work.
Where can your fans find you on the Internet?
My
personal page on Facebook
is the easiest place to find me. You can also find me on my
book page
or on my
blog
.
Thank you, Richard, for such an interesting and informative interview. I look forward to working with you on your next book.
If you want to know more about this book, please read
my review
on it. If you would like to purchase a copy of this book yourself for your own reading pleasure, I have provided an Amazon link below.