Melursus ursinus
, commonly known as the Indian Sloth Bear has a distinct appearance with a shaggy, black coat of fur that thickens around the ears and a long, grey snout that is suited to feed on insects and termites. Sloth bears also have a patch of white fur shaped like a 'V' or 'Y' on their chests.
Sloth bears are found in forested areas across India and also in grasslands. They are nocturnal and feed on insects, termites, fruits, honey and tubers. Indian sloth bears breed during hot summer months and are known to be good care givers of their young. These bears carry cubs on their back, a feat hard to come by in other bears!
Another interesting fact about the Indian Sloth Bear is that these creatures can neither see nor hear very well but have an excellent sense of smell to guide them. Their front legs are longer than the hind legs and these bears have long and sharp paws that help them dig for food. Sloth bears are noisy animals too.
When confronted by a predator, the sloth bear appears to charge by standing on its hind legs and showing out its sharp claws. However they easily loose out if the enemy is stronger and are often hunted down by tigers and leopards.
There has been a steady decline in sloth bear numbers in India over the years. There are several reasons for this such as reduction in forest area, poaching and man-animal conflict. These furry bears are now listed as endangered in Schedule I of the Indian Wildlife (Protection) Act, 1972. A strict ban has been imposed on all exports of fur, claws and other body parts of Sloth bears.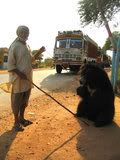 Sloth Bears can be easily tamed and an Indian community called the 'Kalandars' depends on 'dancing bears' to earn an income. This is a gruesome practice where bears caught in the wild are put through an ordeal just to earn a few coins. Efforts are on to stop this practice and several bears have been rescued and rehabilitated. Alternate livelihood options are also being created for the 'Kalandars'.Wildlife SOS in India has freed several captured sloth bears and is constantly working towards preserving these forest dwellers.
The Jessore Sloth Bear Sanctuary in Gujarat and bordering Rajasthan has among its various species of flora and fauna, the Indian Sloth Bear. Some other sanctuaries to find these lanky bears are Jim Corbett National Park, Ranthambore National Park, Dudhwa National Park and Arignar Anna Zoological Park.
Picture courtesy Wikipedia Commons
Here are two link to buy a mug and a picture with a sloth bear. Good for gifting or keeping!
Photo Mugs of Sloth BEAR - in wooded area from Ardea Wildlife Pets
Photographic Prints of Sloth Bear - after eating termites from Ardea Wildlife Pets
This site needs an editor - click to learn more!


Related Articles
Editor's Picks Articles
Top Ten Articles
Previous Features
Site Map





Content copyright © 2022 by Preena Deepak. All rights reserved.
This content was written by Preena Deepak. If you wish to use this content in any manner, you need written permission. Contact BellaOnline Administration for details.