Guest Author - Michelle Taylor
For the first half of my life, my hair partially defined who I was.
You hear the question, "What's your best feature?" and some people would answer their eyes or their smile. Me? My automatic answer was always, "My hair".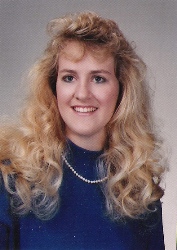 I had tons of it. It never even
saw
scissors for a trim until I was in the 10th grade.
Then, two years ago I went through Gastric Bypass Surgery for weight loss. One of the side effects of this surgery is that if you don't get enough protein, there can be significant hair loss. I didn't go completely bald – but I had horrible patches with no hair that there was no way to cover. Then there was a lice epidemic at my child's school. To be safe we treated the entire family (including myself). What was left of my already thin and brittle hair was destroyed by the lice treatment. Now I
was
completely bald.
For a couple of weeks I was horribly depressed about the way I looked. I didn't feel feminine anymore.
The thing that made me really upset was I was doing great on the weight loss side! I had lost 90 pounds and wanted to celebrate that fact. I didn't want to hide my accomplishment. Then I saw an ad for the photo shop "Glamour Shots" that advertised professional makeup application as well as the photo session.
I know from experience that it is possible to feel pretty if you take the time to dress up and be pretty. It is a lot easier to be glamorous in an evening gown than in flannel pajamas. So I booked a photo session, partially as a reward for the weight I had lost and partially to have some pictures that would make me feel pretty again.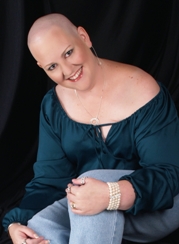 And it worked! I left the store with a bounce in my step and the determination to fully embrace my "womanness" again. I went and bought some colorful scarves, some really cute hats, and drug out all my makeup that I had been neglecting. I also invested in some contacts.
I found out that being bald was actually fun sometimes. There are some days I'm tempted to shave it all off again (especially when the Georgia humidity is kicking in!) But without my hair, my makeup choices weren't so limited. I didn't have to worry about my lipstick clashing with my hair color, or my blush making me look washed out.
My eyes seemed to grow about twice the size without all that hair to distract from them. I
really
played with makeup techniques on my eyes; everything from the smoky eye look, to some wild jewel tones, to subdued natural tones. Eye liner and mascara became my new best friends. Dramatic cat eyes, lining the inner lid, smudging – I tried them all! Others really seemed to notice my eyes more, too. I think this is true for most women. Whenever I think of Sinead O'Connor – I picture her bald head and those big, beautiful, blue eyes – they were amazing.
I did discover that the mineral makeup foundation blended into my "hairline" much easier and more naturally than any of the liquid or mousse makeup that I had always used in the past. That was probably the most important part of my makeup while I was bald – getting even coverage and making sure it blended in, without having to put makeup on my entire head! I still use Bare Minerals now, although I love Maybelline's Dream Matte mousse foundation for heavy coverage (for a special night out, or to cover when my skin decides to rebel against me sometimes.)
Eventually my hair did come back. I can't exactly say "grew out" because I keep getting it cut short! But my hair has gone from being what I considered my best asset to just another accessory. I have fun changing colors, getting funky cuts, and just trying new things. And if I try something I don't like?
Well, it is just hair – it will grow out.
And if I really don't like it, I can always shave my head bald!