Peacock – National Bird of India
The peacock
Pavo cristatus
is the National Bird of India. Mayura is the Sanskrit name for peacock. This large and elegant bird is found extensively across the Indian sub continent both in the wild as well as in close proximity to human settlements. It is not uncommon to find domesticated peacocks, especially in rural belts of India.
Peafowl are omnivores that are found to eat insects, plants, grains and small reptiles. The male fowl is called 'Peacock' and has the best visual appeal with its long train of colorful feathers. The female fowl is referred to as 'Peahen' and is a little smaller than the male and without bright coloration and the long tail feathers. The young ones of the species are alluded to as 'Peachick'.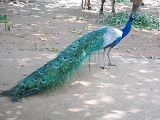 The peacock has a slender blue neck and a crest of tiny blue feathers on its head. The long train of feathers on a peacock's tail in hues of blue, green and brown form a circular pattern and almost resemble 'eyes'. Peacocks shed their chic tail feathers each winter and grow new ones just about the time of mating which coincides with rainy season in India.
Another variation of the bird found in India is the white peacock. The lack of pigmentation in some peacocks results in this variety. Though not as common as its colorful counterpart, white peacocks can be seen in zoos and wild life sanctuaries in the country.
Peacocks can be found displaying their handsome tail feathers in a semi circle and dancing to attract peahens during mating season. To Indians the dance of the peacock is an indication of rain. This is not based on superstition and has a reasonable explanation too. Since the mating season of the peacocks always coincides with the onset of the monsoon, the sight of the peacock dance signifies rain.
In Indian culture, peacocks occupy a rather important place. References to this majestic bird can be found in Indian literature, in mythical tales, poems and songs. The peacock motif adorns sarees, dress materials, wall hangings and paintings. Temple architecture also shows evidence of the importance of peacock in India. A colorful depiction of the peacock with its feathers in full display is a popular theme in Indian jewellery too.
The striking feathers of the Peacock are no doubt a prized possession and can be easily obtained without harming the bird since it is natural for peacocks to regularly shed their feathers. These are used to make hand held fans which are in great demand in India. Peacock feather fans are sold by peddlers along roadsides in shopping areas. In ancient days, it was very common to use peacock feathers as quills and also to apply medicine on injured parts.
Peacock in India is protected under the Indian Wildlife Protection Act of 1972 and hunting the bird is an offence. However this does not shield the graceful peacock from danger. Since peacocks live very close to villages and agricultural areas, they are looked at as a menace during harvest time since they feed on grains and crops. So peacocks are often poisoned and killed. This is a serious threat that the bird faces especially in rural India.
Click on this dancing peacock poster and make it yours
Like this jeweled peacock? Click on it and make it yours!
This site needs an editor - click to learn more!


Related Articles
Editor's Picks Articles
Top Ten Articles
Previous Features
Site Map





Content copyright © 2022 by Preena Deepak. All rights reserved.
This content was written by Preena Deepak. If you wish to use this content in any manner, you need written permission. Contact BellaOnline Administration for details.