What Are These Opposite Types Doing Together?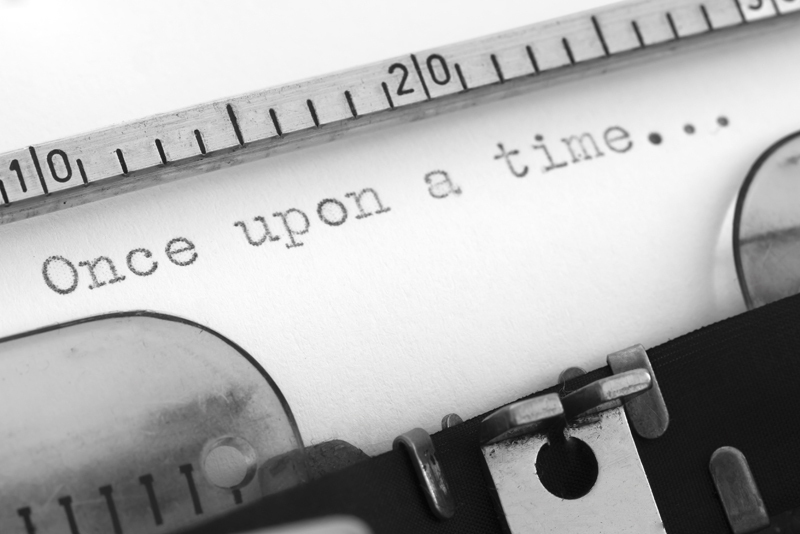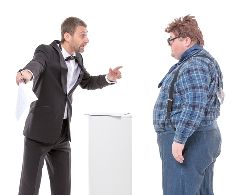 This picture writing prompt might just make your imagination run riot attempting to explain who are these very different two men and how are they interacting together. Here we have two men facing each other over a podium or lectern or even a pulpit. The left-hand man wears elegant clothes. A monochrome look such as his conveys a sophisticated impression and the color black evokes formality. He is a striking figure with his svelte physique and neatly trimmed beard and hair. The right-hand man is overweight and wears cheap, sturdy working-man's clothes. Yet he is too plump to be a laborer. His glasses are unfashionable and nerdy and his hair is unkempt. Under what circumstances would two men from such obviously different social circles ever encounter each other? Perhaps they are family. Or they are strangers who have a random interaction (or altercation) in public?
As you study the photo, allow yourself to form an overall impression. What mood do you get from the image of these two men? Drama? Comedy? Realism? Satire? What emotions are rising to the surface between them the instant this photo is snapped? Frustration? Hostility? Competitiveness? Bafflement? Wariness? It all depends on whether they have a past history or have blundered together for the first and last time as of this moment. Is there anything about them that suggests that they already know each other? If so, how close are they? Do they seem to be working together on something or do they have different agendas?
What is the most striking detail that you notice about this photograph? Probably that the two men look so different. It is hard to evaluate them as individuals because the right-hand man stands in profile so that we miss out on the wealth of information that would come with his facial expression. But you can draw countless assumptions simply from the way these two are dressed. What do you surmise about each man's profession, childhood, personality, education level, values, family status, nationality, and residence?
What is happening between them right now? Notice how the right-hand man seems to be an intruder into an environment more closely matched to the left-hand man. True, the setting consists only of a podium, but our man in the suit holds some paper, which would indicate that he might be going to lecture on a subject. The right-hand man just stands there, looking like a hayseed. Clearly he is less likely to be stepping up to address a crowd.
Who holds the power in this scene? You might think, "Oh, it's the guy in the suit. It is his speaking engagement that the other guy just crashed, and he is pointing out that the other guy really doesn't belong here. Besides, he looks wealthier, more sophisticated, and better educated so he will have the upper hand no matter what."
But is that really true? Notice how the left-hand man's expression indicates that he has more at stake emotionally. He looks agitated or upset or disquieted. Meanwhile, the right-hand man seems unperturbed. If he doesn't care as much as the left-hand man about the issue at hand, that would give him an enviable sense of detachment. Meanwhile, appearances cannot make up for a strong personality. Maybe the right-hand man looks like a dork on purpose because he feels most comfortable that way, but he is really an eccentric billionaire who refuses to let the snotty maître d' (that is, the left-hand man) give him a bad table in a restaurant just because he doesn't fit in with the beautiful people. Let your imagination fly past the obvious assumptions and see where it leads you with this scenario.
I purchased this photo with my funds at Dreamstime Stock Photography
.
You Should Also Read:
Picture Writing Prompts
Text Writing Prompts
Why Use Picture Writing Prompts?


Related Articles
Editor's Picks Articles
Top Ten Articles
Previous Features
Site Map



Follow @Val%5FKovalin
Tweet





Content copyright © 2023 by Val Kovalin. All rights reserved.
This content was written by Val Kovalin. If you wish to use this content in any manner, you need written permission. Contact Val Kovalin for details.