Are you staying in a hotel that could be inhabited by the spirits of cowboys and Indians? Are the ghosts of those who committed suicide inhabiting the hallways and rooms? Perhaps some of them were murdered, and the ghosts are searching for the ones who killed them.
Do you need an idea for one of your stories? Why not investigate the happenings at each of these hotels. Find out exactly who haunts them, and discover what the ghosts have been up to. If you live close enough to one of these hotels to visit and see it yourself, you could be in for a great adventure. If not, you can always check it out online. You can even find eyewitness accounts that have been written.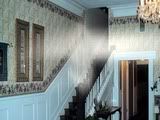 The Bonanza Inn in Virginia City, Montana
The Belton Chalet in West Glacier, Montana
Old Main Street Inn in Chadron, Nebraska
Argo Hotel in Crofton, Nebraska
Goldfield Hotel in Goldfield, Nevada is home to several ghosts. One is a malevolent spirit known as "The Stabber". Why? Even though no one has been harmed by him, he randomly attacks people with a large kitchen knife, then immediately disappears.
Mizpah Hotel in Tonapah, Nevada
Beal House Inn in Littleton, New Hampshire
The Mount Washington Hotel in Mount Washington, New Hampshire
Hotel Macomber in Cape May, New Jersey – Most of the paranormal activity here takes place in room #10. Why this room? There is a legend, but is it true? If you stay in this room, objects move around, doors open and close, clocks will start and stop, and you may have the feeling someone is in the room with you.
The Flanders Hotel in Ocean City, New Jersey
St. James Hotel in Cimarron, New Mexico
The Val Verde Hotel in Socorro, New Mexico
Holiday Inn Grand Island in located in Buffalo/Niagara, New York. The resident ghost is a little girl who was burned to death at a house that once stood in the same location.
Sagamore Hotel in Bolton Landing, New York
Carolina Inn in Chapel Hill, North Carolina
Grove Park Inn Resort in Asheville, North Carolina is haunted by the Pink Lady.
Green Park Inn Hotel in Blowing Rock, North Carolina
Sage Hill Bed & Breakfast in Anamoose, North Dakota
Old Luger Hotel in Fort Yates, North Dakota
Hilton Netherland Plaza in Cincinnati, Ohio
The Golden Lamb Inn in St. Lebanon, Ohio is frequented by two ghosts. One of them is the ghost of a young girl who likes to knock pictures off the wall and stomp her feet. The other is the ghost of an Ohio Supreme Court Justice who died at the inn.
Stone Lion Inn in Guthrie, Oklahoma
The Skirvin Hotel in Oklahoma City, Oklahoma
The Hecta Head Lighthouse B & B in Yachats, Oregon
Heathman Hotel in Portland, Oregon
Hotel Bethlehem in Bethlehem, Pennsylvania
Farnsworth House Inn in Gettysburg, Pennsylvania is located on the site of one of the bloodiest battles of the Civil War. Over a hundred bullet holes were left in the building. The inn is filled with ghosts, many of whom are thought to be Civil War soldiers who died during the intense battle. Spirits of young children and a mid-wife also make their home here.
The Biltmore Hotel in Providence, Rhode Island
Brookside Manor B & B in Wakefield, Rhode Island
The 1837 Bed and Breakfast in Charleston, South Carolina
Battery Carriage House Inn in Charleston, South Carolina
Bullock Hotel in Deadwood, South Dakota
The Villa Theresa Guest Bed & Breakfast House in Hot Springs, South Dakota – Some of this hotel's guests were so reluctant to leave that they didn't. Even though they have been long dead, they can still be seen wandering around. Besides these dead guests, the ghosts of a man and a woman struggling can be seen on the staircase. The struggle usually only last a few seconds before both vanish.
Hotel Galvez in Galveston, Texas
Menger Hotel in San Antonio, Texas
Ben Lomond Hotel in Logdon, Utah
The Armstrong Mansion in Salt Lake City, Utah
The Eq uinox Hotel in Manchester, Vermont
The Brass Lantern Inn in Stowe, Vermont
The Linden House Bed & Breakfast Plantation in Champlain, Virginia
The Wayside Inn in Middletown, Virginia served as a hospital during the Civil War for soldiers on both sides. For those interested in the Civil War, this would be an awesome place to stay. So far, the ghosts have always been friendly.
Thornewood Castle Inn and Gardens Bed & Breakfast in Lakewood, Washington
Davenport Hotel in Spokane, Washington
The Hay-Adams Hotel in Washington, D.C.
The Renaissance Mayflower Hotel in Washington, D.C.
Hilltop House in Harpers Ferry, West Virginia
The Blennerhassett Hotel in Parkersburg, West Virginia – The builder of this fine hotel, Mr. William M. Chancellor, becomes very upset when his portrait is taken down. The ghosts of several children have also been reported.
Pfister Hotel in Milwaukee, Wisconsin
Ramada Plaza Hotel in Fond du Lac, Wisconsin
The Ivy House Inn in Casper, Wyoming
The Plains Hotel in Cheyenne, Wyoming has three ghosts – a husband and wife (Rosie) on their honeymoon, and the other woman. The wife sees her new husband with another woman, follows them back to this woman's room, and kills both of them. Then Rosie returns to her own room and commits suicide. All three ghosts have been seen by the staff and guests.