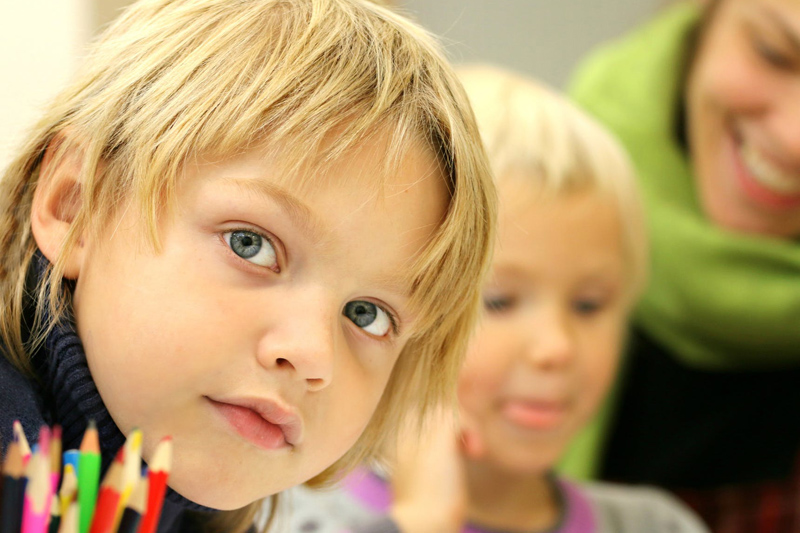 Learning basic shapes such as circles, squares, triangles, rectangles and ovals is a skill that preschoolers will be expected to master before entering kindergarten. Shapes could easily be taught with a flashcard method, but there are many other fun ways to get your child to master their shapes. Get your child moving and being silly while learning shapes! Here is how:

Life-sized "flashcards"
On your sidewalk draw a couple of large shapes that you want to focus on. If your child is just beginning to work on learning shapes then only choose two or three simple shapes to begin with. You can write the name above the shape so that they begin to connect the word with the shape, but this is not totally necessary. Begin by telling your child the shape and have them repeat after you. Next, give your child verbal instructions for which shape to jump on (e.g. jump on the blue circle). Correct them if they jump on the wrong shape. Mix it up by asking them to jump on, sit on or do a jumping jack on a specific shape. You can even let them be the teacher and instruct you to jump on a shape. This gives them practice saying the shape names out loud.

Another variation of the life-sized flashcard activity is to have them go on a scavenger hunt in the yard to look for objects that can be categorized into each of the shapes you have drawn. They could put a circular rock in the middle of the circle or a brick in the middle of the rectangle.

Q-tip Art
On a piece of paper draw the outline of the shapes you are focusing on. Using paint, (watercolors, tempera paint, or finger paint) show your child how to use a Q-tip to make dots all around the shape. If you do not have Q-tips on hand they can use their finger to make the dots.

Bean Bag Toss
Either draw shapes on pieces of paper or use painter's tape to make large shapes on your floor. Call out a shape and have your child toss the bean bag into the appropriate shape. An alternative for bean bags is to use rolled up socks.

We are surrounded by shapes! There are so many quick, easy things you can do with your child to help them master shapes. Soon they will be pointing out shapes as you are driving or going on a walk.




Related Articles
Editor's Picks Articles
Top Ten Articles
Previous Features
Site Map





Content copyright © 2021 by Amy Tradewell. All rights reserved.
This content was written by Amy Tradewell. If you wish to use this content in any manner, you need written permission. Contact Amy Tradewell for details.