India Drummond, author of
Blood Faerie
, agreed to answer some questions for me about her life and her writing career.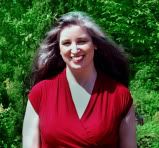 Blood Faerie is the first in a series. How many books are going to be in this series?
I originally planned the Caledonia Fae series to be a trilogy, but I've gotten great feedback from readers who want more. I felt I had more stories to tell, so I'm planning a second trilogy (although I'm numbering them as #4-#6 to avoid confusion.) #4,
Druid Lords
, will be coming out December 14th this year.
Why did you decide to have the story take place in Perth, Scotland? Do the rest of the stories in the series also take place in Perth?
I've lived in the Perthshire area for over ten years now, and I just love it. The original inspiration for the story came one day when I was passing the abandoned shell of St. Paul's church (which you see in the first chapter of the first book.)
As the series progresses, more and more of it takes place in the Faerie realm, the Otherworld. More global locales come into play as well. The "real world" scenes in
Druid Lords
centre around Amsterdam.
Did you create Eilidh's world before you started writing the book, or did you allow it to develop as you wrote the story?
Typically, I create a character first, working through their background and motivations until I feel I understand how they would react in most situations. Then I create the conflict, and watch things play out from there. Many of the systems and culture of the Otherworld were created beforehand, because they were such an important part of defining her as an individual. The magic system was also detailed beforehand, because I wanted to ensure a set of predictable and coherent rules for how magic behaved. Of course, inspiration can strike at any moment, so the world does change as my characters move through it.
Is Eilidh play a part in the rest of the books in this series?
She's central to the first three books, as they are really the story of her humble beginnings, then later her ascendency in fae culture. Throughout this first trilogy, her bonded druid Quinton Munro is equally present. Because their bond defines much of who they both are, and therefore influences those around them.
She's still a character in the fourth book, but a more minor one with no point of view scenes. As the second trilogy begins, the focus shifts to the druids, who grow in power and in number. Munro is more central than she is, but she'll always have a great deal of influence in his life, and so be an important part of any story involving him.
Who was your favorite character in Blood Faerie? Why?
I loved all of them for different reasons. I worked to give each of them good qualities as well as flaws, to make them more real. I would have to say that Cridhe, the unhinged serial killing faerie was a lot of fun to write. As strange as it sounds, I liked getting into his head and exploring his past and what drove him to kill.
What was your favorite scene in the book?
Probably the scene where Munro shows Eilidh around his house, and she is awed by the technology and indoor plumbing. It's got a lot of humour and the sparks fly between the two of them. It was also a difficult scene to write, because it starts out fun, but ends with an awkward misunderstanding between them. I hated doing that to them, but their cultural barriers were just too great in the beginning for them to get over them easily.
What do we have to look forward to in the other books in this series?
As the series goes on, the Otherworld, fae culture and society features much more prominently. We meet the faerie queens, some good, some bad, and the politics between the various kingdoms becomes much more a part of the overarching story. More druids come into play, and with each story, the stakes get even higher.
Links to the final two parts of my interview with India Drummond are below, along with the link to my review of her book,
Blood Faerie
.