How will you poke fun at a fire ant during the Fire Ant Festival? Will you annoy the ant so much that he sets you on fire? Will your woolly worm win the race at the Woolly Worm Festival? What is a chitlin and why do they hold a festival in its honor? Will you attend the Chitlin Strut to find out?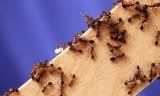 The FireAnt Festival
has now taken place in Marshall, Texas for over 29 years. Held sometime during the beginning of October each year, it pokes fun at the pesky imported fire ant. Imported fire ant? Yeah, imported. Texas has it own native species of fire ant, but this festival is a tribute to the species accidentally imported from South America. One of the first events at this truly wacky festival is a Fire Ant Calling Contest. Is there a way to call a fire ant? Who knows? I guess the person who comes up with the most entertaining and creative way to call a fire ant would be the winner. Rubber chicken chunking, ugly face-making, a diaper derby, and a men's Crazy Leg contest are some other events at this kooky festival.
The Woolly Worm Festival
takes place in Banner Elk, North Carolina and in Beattyville, Kentucky. What is a woolly worm? It is the caterpillar of the Isabella tiger moth. How much black appears on the woolly worm foretells just how harsh the approaching winter will be; the worm's predictions are correct about 80% of the time.
There are many events that take place at this popular festival every year, one of which is a woolly worm race. Pushing your woolly worm along is allowed. Food, including funnel cakes and blooming onions, is sold during the three-day festival. Local crafts and merchandise can be purchased at booths set up along Main Street, which is closed for the duration of the festival. Beattyville, the city I live in, is only 20 miles from Natural Bridge State Park, so the festival is a huge tourist attraction for our little town.
The Chitlin Strut
takes place in the small southern town of Salley, South Carolina. This festival is held the first Saturday after Thanksgiving each year and honors one of the deep South's favorite delicacies. I had no idea what a chitlin was until I looked it up. Chitlins are the hog's intestines, boiled until tender, then dipped in batter and deep-fried. Many say these are an acquired taste, and I believe them. Their flavor is said to be unique and the smell not so good. Anyway, about 10,000 pounds of chitlins, chitlings, or chitterlings (whatever you prefer to call them) are consumed at this festival each year. To go along with this delicacy, there are hawg-callin' contests, struts, a pageant, and carnival rides. Local foods, besides chitlins, and crafts are also sold at this event, which has been held annually since 1966.
Each of these festivals is full of ideas for stories. You could take any of the events held at them and write a story around it. It could be a mystery, a thriller, an adventure story, or even a romance. The festival could be the center of your story, or it could play just a small part.
Whatever festival you decide to use, please research it thoroughly first. Or you could research several of them and create your own unique festival for the town your story takes place in.