Mark Twain had this to say about the German language: "My philological studies have satisfied me that a gifted person ought to learn English (barring spelling and pronouncing) in thirty hours, French in thirty days, and German in thirty years."
German is a difficult language to learn, but many German words have been borrowed by the English language. Have you ever thought about working any of these words into your writing? Maybe you could create a character that has a tendency to throw German words into everything he says. Here are five German words for your consideration.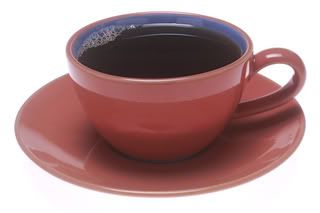 Kaffeeklatsch
- This is an awesome word, and one that is pretty easy to figure out the meaning of. 'Kaffee' means 'coffee', and 'klatsch' means 'gossip'. Therefore, a
kaffeeklatsch
is an informal gathering where coffee is served and the conversation freely flows. Other ways this word can be spelled are: kaffeeklatch, kaffee klatch, kaffee klatsch, coffeeklatsch, coffeeklatch, coffee klatsch, and coffee klatch.
A group of ladies would have a
kaffeeklatsch
to discuss what is going on with their children. Maybe a detective would have a
kaffeeklatsch
to interview suspects in a case.
Kulturkampf
- Without conflict, there wouldn't be a story. 'Kultur' means 'culture', and 'kampf' means 'conflict', so
kulturkampf
means 'a cultural conflict, especially a religious one'. From 1871-1883, there was a struggle between the German government and the Roman Catholic Church over who would control education, marriage, etc. This struggle was named 'the Kulturhampf'.
blitzkrieg
- A lot of people are already familiar with this word. 'Blitz' means 'lightning', and 'krieg' means 'war'. A
blitzkrieg
is a sudden military attack. It can also be an intense campaign, even one that doesn't necessarily have to do with war. It could be an intense ad campaign or an evening of intense studying for finals. For writers, it could be an period of time when you don't allow yourself to do anything but write.
gemutlichkeit
- 'Gemutlich' means comfortable and cozy.
Gemutlichkeit
means warm friendliness, comfortableness, and coziness. Some people are known for their
gemutlichkeit
or warm friendliness.
Your character could be visiting a town that is known for its
gemutlichkeit
. But is all as it seems in this quaint, little town? What is going on underneath the surface? Your character accidentally stumbles upon their little, or not so little, secret. What happens?
wunderkind
- 'Wunder' means 'wonder', and 'kind' means 'child'.Mozart, Chopin, and Mendelssohn were
wunderkinds
. Michael Jackson was also a
wunderkind
. A
wunderkind
is a child prodigy.
What would it be like to raise a child prodigy? What would it be like to live next door go one? Create a character who is a wunderkind. There have been so many wunderkinds in the field of music, so choose to have your character be extremely gifted in an area like cooking, math, detective work, or something really unusual.
I'm not going to try and explain how to pronounce these words. You will need to look them up. There are dictionaries online that will even pronounce them for you. Even if you don't learn how to pronounce these words, have fun thinking of creative ways to use them in your writing.