Guest Author - Ann Marie Hodrick
The gem variety of the mineral corundum, the Sapphire, is the modern and traditional September birthstone. Sapphires occur in all colors of the rainbow although the correct name for a red Sapphire is the Ruby. These gems originally started out as pure aluminum oxide before being crystallized by intense pressure and heat many centuries ago. The ring pictured above is an exceptionally rare vivid blue Sapphire from Ceylon Sri Lanka. This quality represents the top 0.1% of all Sapphires.

Variations in the amounts of iron oxide and titanium in the stone is what causes the variety of colors with the most well-known being a rich and clear, deep blue. The most exotic color is a rare variety of orangish-pink sapphire called Padparadsha, found in Sri Lanka. The name is derived from the Singhalese word for "lotus flower." This is the only Sapphire (besides the Ruby) to be given its own name.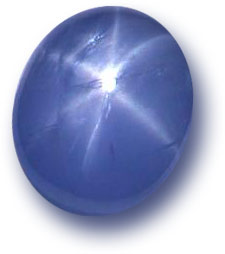 Sapphires are one of the precious gemstones along with ruby, diamond and emerald. They have excellent hardness, second only to the diamond. These blue gems are commonly heated to permanently improve their color and reduce cloudiness caused by rutile inclusions, which is usually considered a negative quality. In the case of rare Star Sapphires, it is these rutile inclusions that make the gems valuable. Rutile is a mineral composed of mostly titanium dioxide that creates the six pointed star effect called asterism. You can see this effect in a cabochon, or half dome cut gem, as the light crosses the surface when the gem is being moved.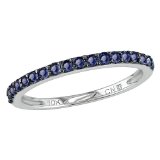 The name corundum comes from the ancient Sanskrit "kuruvindam", while the name "Sapphire" is derived from the Persian word "safir", meaning "beloved of Saturn" or possibly from the Greek word "sapphirus", meaning blue. There were a few myths from ancient cultures that are associated with the Sapphire. The ancient Persians thought that the sky was a vast sapphire and the Earth was imbedded in it. As a result, its reflection colored the sky a beautiful blue. Another is a belief that Sapphires were derived from the gods and swallowed by the sea. Biblical legends point to the blue gem as the most sacred of gemstones by claiming that Moses was given the Ten Commandments on tablets of Sapphire.
Sapphire is associated with physical and emotional balance. It is said to calm feelings of hate and anger and allow clarity of thought, bringing peace to anyone who wears it. Sapphires were prized among priests and kings, who considered them symbolic of wisdom and purity. Because it is thought to enhance the influence of Venus, the Roman goddess of love, Sapphire is a symbol of long term relationships. It is thought to enhance the qualities required in a healthy relationship…like loyalty, faithfulness, truth and reliability. A gift of Sapphire represents sincerity and faithfulness.