Would you cook in a galley or a gally? Does a horse gallop or galop? Do you wear genes or jeans? Would you be a member of a gild, gilled, or guild?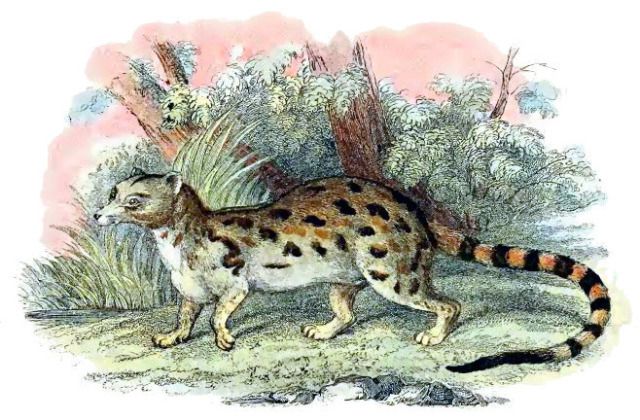 Blotched gennet, public domain image
galley, gally
A
galley
is the kitchen area of a ship, plane, or camper.
The thief hid the stolen pieces of silver in the ship's galley.
Gally
is a verb that means to frighten or scare.
One of the favorite activities of the mischievous youth was to jump out from behind things and gally old ladies.
gallop, galop
A
gallop
is the gait of an animal when all four feet are off the ground at the same time.
The startled horse took off in a sudden gallop.
A
galop
is a livelydance.
The dancing instructor won the town's competition by performing the galop faster than anyone else had ever done.
gamble, gambol
To
gamble
is to put something of value up for wager. It means to take a risk on something.
Are you willing to gamble your life savings to get this new product into the marketplace?
A
gambol
is a frolic. As a verb, it means to frolic.
One of the joys of raising goats is watching the kids gambol in the pasture.
genes, jeans
Genes
are the basic physical units of heredity.
The genes for green eyes and red hair run in her family.
Jeans
are pants made from a sturdy twilled fabric.
He found a pair of jeans that were full of holes to wear while he worked on his truck.
genet, jennet
A
genet
is a carnivorous mammal that is about the size of a cat.
The genet, commonly found in Africa, is mainly a nocturnal animal, although during the rainy season it is seen during the day.
A
jennet
is a female donkey.
The farmer bought a beautiful and friendly jennet for his herd.
gild, gilled, guild
When you
gild
something, you coat it with gold or a gold-colored substance.
She is preparing to gild her platinum necklace.
Gilled
means having gills, the respiratory organs of aquatic animals.
Gilled
also refers to gutting of cleaning fish.
After the fisherman had gilled their entire catch, they cleaned up their mess.
A
guild
is an association of persons with related interests and formed for mutual aid or, protection.
Darryl was the oldest surviving member of the once famouse artists' guild.