Would a glazer or a glazier put the glaze on your doughnuts? Would you describe your pleasant neighbor as gneiss or nice? Do you watch the gnus or news each evening? Is it a gofer or a gopher that digs holes in your yard?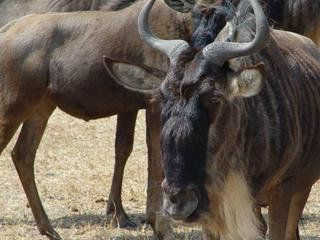 sciencegnus.com
en
gilt, guilt
If an item is
gilt
, it is covered with gold. It is also a thin layer of gold applied during gilding.
The gilt-covered coin sparkled in the sunlight.
Guilt
is the state of having committed a crime against moral or penal law. It is also a feeling of remorse or responsibility for a crime or offense committed.
The guilt for not reporting the crime she had witnessed ate at her day and night.
glazer, glazier
A
glazer
is one who applies a glaze to pottery, leather, fur, or baked goods.
Susan applied for a job as a glazer at the bakery.
A
glazier
is a person who fits windows with panes of glass.
The glazier could see a crime being committed in the reflection from the piece glass he was installing in the bank.
gnawed, nod
Gnawed
means chewed or corroded. It also means troubled or tormented by constant worry or annoyance.
Reliving the horror night after night in her dreams gnawed away at her sanity.
A
nod
is a tilt of the head that usually signifies agreement.
Please nod your head if what I am saying is the truth.
gneiss, nice
Gneiss
is a word with German roots. It is a metamorphic rock similar to granite.
Jenny was able to study a piece of gneiss in her science class.
Nice
is an adjective that means agreeable or pleasing.
That nice young man over there has offered to mow the grass at church.
gnu, knew, new
A
gnu
is an African antelope.
Amy was delighted when she spotted a gnu while on her safari.
Knew
is past tense of know.
Each person in the group knew what the punishment would be for disobedience.
When an item is
new
, it has been made recently and probably has never been used.
Gerald's new car was the envy of everyone at school.
gnus, news
Gnus
would be more than one gnu, an African antelope.
A herd of gnus could be seen running across the plains.
News
is the report of recent events.
A fire at the local school made the evening news.
gofer, gopher
A
gofer
is an employee whose main duty is to run errands.
Jeremy was sick and tired of being the gofer at the law firm.
A
gopher
is any of several ground squirrels that live in the prairie regions of North America.
The gopher was trying to escape my wrath by hiding in one of the burrows it had dug in my yard.