What was the inspiration for this book? How did Ms. Jackson feel about the characters she created? How long did it take her to write
Keeping Secrets
?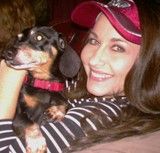 What was your inspiration for Keeping Secrets
?
Lisa, the idea for
Keeping Secrets
popped into my head years ago—so long ago that I don't even remember where the idea came from. The story sort of lingered and continued to write itself in my mind for so long that I decided it deserved to be written.
Which character is your favorite? Is there a character that you just don't like?
I suppose Abbie is my favorite character because of her strength, even when she finds herself in horrifying situations. She's a survivor. I identify with her the most. But I have to say that I really like Betty, too. She's pretty rough around the edges, but that's what makes her so colorful. She makes me laugh, and I love to laugh.
The character I really don't like is Donna. She's obviously filled with hate and jealousy in
Keeping Secrets
, but her true colors don't completely shine through until the sequel,
No More Skeletons
.
Which scene was the easiest for you to write? Which one was the most difficult?
Any scene with a lot of dialogue is easy for me to write, and in my books, that's most scenes. My stories are always heavy on dialogue. I like to read dialogue, and in knowing my characters so well, I know exactly what they would say in any situation.
The most difficult scenes for me to write are ones that are extremely emotional. I'm a very emotional person, so when someone else cries (including my characters), I do, too. I didn't cry that much during the writing of
Keeping Secrets
, but there are several scenes that make me cry in
No More Skeletons
.
How long did it take you to decide on a title for your book? Were there any other possible titles you had picked out?
I think the title was the hardest part about writing this book. I struggled with it for months. I called it
Sleeping With Evil
for a while, but I decided that it sounded too much like
Sleeping With the Enemy
. I tried lots of titles, but nothing really seemed to fit. It wasn't until I wrote the description for the book, that it presented itself. Both of the main characters had been keeping secrets for many years—one of which, they both shared.
How long did it take you to complete this book?
It's hard to say. I wrote
Keeping Secrets
, and then before editing it, I wrote the sequel,
No More Skeletons
. Then, I went back and began the process of "adding color" (which is what I call adding description) and editing
Keeping Secrets
. With all that considered, I'd say I probably completed the book in about six months, or maybe a little less.
The interview continues in
More of Interview with Kitten K. Jackson