How many books will be in this series? Is Kitten the author's real name?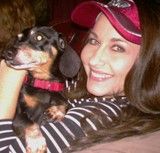 When do you plan to have the sequel completed? How many books do you plan on there being in this series?
I hope to have the sequel,
Keeping Secrets II: No More Skeletons
, finished and published by sometime in February of 2013. There will be another book in the series. The working title is
Keeping Secrets III: Generational Curses
, which will have some "paranormal" elements. I'm not planning another book in the series after
Generational Curses
, but I'm also not ruling it out. If a story asks to be written, I'll write it.
Is Kitten your real name? And why do you use the middle initial 'K' with it?
My paternal grandmother took over the task of naming me, naturally naming me after herself--Charlotte. Since she labeled me with her own name, she apparently thought she should also give the same "honor" to my maternal grandmother, Annette. So there I was. This tiny, five-pound, thirteen-ounce, little thing was named Charlotte Annette. It just didn't seem to fit, so from day one, my dad started calling me Kitten. And then everyone called me Kitten. I was never called either of my grandmothers' names until I was in school, when a few grouchy, old teachers refused to call me by my nickname. It was confusing to me, and they would yell at me because I didn't respond to the name Charlotte. That's because to me, that was my grandmother's name--a grandmother who, incidentally, also went by a nickname. She was Doodle!
Fast-forward to the year I turned 21. I finally got the nerve to legally change my name to Kitten. As I was changing one grandmother's name, I thought I had to also change the other name (not that I was fond of Annette, either). So I tried to figure out what would sound good with Kitten. Nothing did. Then, I thought of Kristine. It was the only name that ever seemed to go with Kitten.
When I started writing for the Depression Site on BellaOnline.com, I decided to use my middle initial. I certainly wasn't concerned with being distinguished from other possible Kitten Jacksons (laughs), but I knew how informal the name Kitten sounded. I thought that maybe the initial would give my name a bit of a "grown-up" sound. When I created my infidelity support website,
Cheaters & Broken Hearts
, I used Kitten Kristine Jackson in the copyright notice. Then, when I got to the point of publishing Keeping Secrets, I didn't want to confuse any of my readers by not using the initial or the middle name. Knowing the name would take up precious space on a cover, I decided to go with the initial.
The interview continues in
Continuation of Interview with Kitten K. Jackson
.