How much research did the author have to do for this book? How did she choose the names of her characters? What advice does she have for authors who are striving to be published?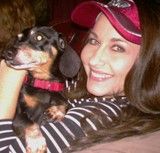 How much research, if any, did you have to do for this book?
The book is set in Pensacola. I spoke with Pensacolaís Chief of Police, Chip Simmons (a former classmate), and two other police officers in other areas, to get information to try to make my police scenes as accurate and believable as possible.
How did you choose the names for your characters?
To me, Abbie seemed like an Abbie. Greg/JohnnyÖIím not sure where those names came from. Betty was named for my mom. Brandi is my daughterís name. A good friend of mine, Angela, was the inspiration for Abbieís best friend, also Angela. MarkóI just like the name. Vicky was named for a friend who was the first one to read the first draft of the book. The rest were fairly random. I sometimes use a baby name book, but other times, I look at my Facebook friend list.
How completely do you develop your characters before beginning to write?
By the time I begin to write a story, I know my characters very well. I think you have to know them (develop them) well. Otherwise, how do you know what they would do, say, or think? Of course, you get to know them better as you write them.
Do you ever become bored with what you are writing? If you do, how do you get past that point?
I donít ever get bored. If I did, Iíd think there must be something wrong with my story. I figure, if Iím bored writing it, why would anyone want to read it? I do, however, get tired when I spend 14- or 16-hour days, especially several in a row, writing. Thatís a bit of burn-out, but itís not really boredom. Your mind can get a little fuzzy when youíre spending too much time on something, and thatís when itís time to kick back and watch a movie, listen to some music, go for a walk, or just hug on your dog.
What is your favorite genre in which to write?
I like to write what I like to read. I like suspense and mystery. I like to be afraid for the characters. I want to try to figure out what makes people tick. Thatís especially good when thereís a therapist involved (see the sequel, No More Skeletons). I like to see a spicy relationship develop, too, within a thriller. So I guess that would be psychological thriller/ murder mystery/ erotic romance! ~laughs~
What kind of books do you like to read?
As I said above, the same that I like to write. I also love to read comedy. I wish I could write comedy, but I guess my brain wasnít wired for comedy. Apparently, Iím a little more in touch with my darker side.
How do you manage to balance your time between family, friends, and writing?
Iím in North Carolina with my husband, away from all my family. I go back to Alabama as much as I can, and spend several weeks at a time, which takes me away from my writing. I love the time with family, but I feel that strong urge to get back to my stories. Peej (my doxie) is with me all day while my husband is working. When he comes home, we spend a few hours together, and then heís off to bed, and Iím back to work.
If you could spend one hour with just one person, dead or alive, whom would you choose? Why?
I would have to say that person would be Jesus. There isnít a more important person that has ever lived. I canít imagine an experience that would be more profound, short of being in Heaven.
Do you have any advice for writers who are striving to be published?
First of all, readÖa lot. And write a lot. If you didnít make straight Aís in grammar, spelling, literature, and typing, study them all. And before you sign over your rights and control to a traditional publisher, research self-publishing. Many traditionally published authors are now publishing their own works because there are so many advantages. Also, learn everything there is to learn about marketing books. And unless you do these things professionally, hire an editor, a formatter, and a cover designer.
Lisa, Iíd like to take this opportunity to thank you for reading and reviewing
Keeping Secrets
, and for taking the time to do this interview. Iíve really enjoyed it, and I hope you have, as well.
Thank you, Kitten, for such an amazing interview. If you would like to contact Kitten for editing work, you can reach her at
Jackson Editing
.