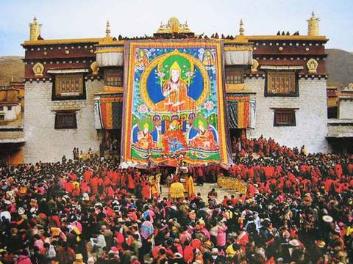 In 2013, Chinese New Year and Tibetan New Year (known as Losar) correspond, falling on February 10th and 11th, although the primary 3-day Losar celebrations range from the 9th to the 13th, depending on the community. In both astrological systems, 2013 is the Year of the Female Water Snake.
Although neither is technically a Buddhist holiday, both are celebrated as such in Buddhist countries and communities. Losar is one of the biggest celebrations of the year within Tibetan communities, with festivals and rituals spanning a 2 week period. Tibetans traditionally clean their homes thoroughly during this time, and seek to resolve disputes, to begin the New Year fresh. They may paint auspicious Buddhist symbols on their walls or doors. One day of the 3-day kickoff to the festivities is reserved for visiting friends and family, and another for visiting monasteries and offering prayers. A variety of celebrations and Buddhist rituals and practices are also conducted during this time.
In the astrological system shared by the Chinese and Tibetans, the animal for each year (in 2013, the snake), element (in 2013, water), and 'gender' (in 2013, female) are each calculated separately. In general, individuals born in a Snake year are seen as smart, introspective, refined, and private. They are considered capable of being quite cunning and difficult to read. They can be very successful in the world, because of their diligence, intelligence and attraction to elegance and high culture. But they are also capable of striking a lethal blow, if provoked.
Years of the Snake share many of the same characteristics - they are years in which events behind the scenes may be more significant than the big events that capture a lot of attention. So this year may be just as transformative as 2012 (which was considered a very dramatic year energetically) but in a less obvious way. On a personal level, this is a year for pulling inward and figuring things out, and contemplating decisions carefully before acting. They are considered years in which great progress can be made on personal and business goals, but also years in which deception can be a problem - whether deception by others or self-deception. Discernment and self-awareness are key advice for Snake Years.
Predictions on a public level for 2013 are very similar. Coming on the heels of the dramatic 2012 Year of the Dragon, 2013 is considered by many to be a year of processing those events and changes on a subtler level. One twist however, is that the 2013 element (water) and the native element of the animal (snakes are considered fire animals in this system) are not very compatible. Although predictions vary, some predict that this clash of elements will mean a continuation of strange and dramatic weather patterns that we have seen. On a personal level, any ongoing discord in your life, especially between men and women, is unlikely to abate. 2014 will see an end to this element clash however, with the elements finally lining up amicably.
Because of the Snake association with intelligence and seeing under the surface of things, this year is considered a potentially good year for scientific and technological research and advancement.
In terms of spiritual practice, this is a year for introspection. Snakes have a symbolic link to rebirth, related to their ability to shed their old skin and grow a new one, so in that sense this is considered a year for new beginnings. As a 'female' year, gentler, fluid, contemplative 'yin' practices are likely to be of great value. However, because of the Snake association with deception, it's also considered very important to keep a vigilant eye on any tendencies towards self-delusion or deception by others. In that sense, inquiry practice and meditations centered on recognizing transience and the nature of reality are likely to yield the most powerful results.