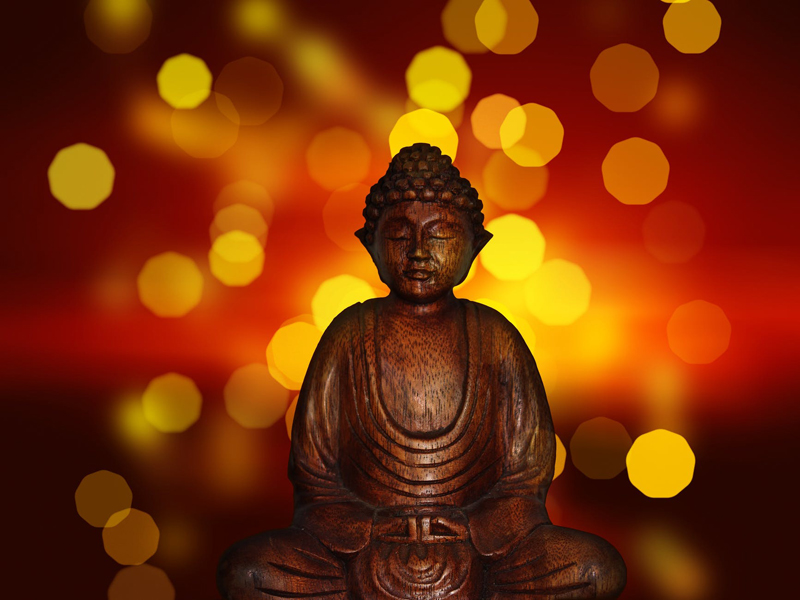 In 2014, Chinese New Year and Tibetan New Year (known as Losar) fall a month apart, on January 31st and March 2nd. While some years these two correspond, they do not this year due to slight differences in the lunar calendars used to calculate them. In both astrological systems, 2014 is the Year of the Male Wood Horse.
Although neither Chinese New Year or Losar are technically Buddhist holidays in terms of their origins, both are celebrated as such in Buddhist countries and communities. Losar is one of the biggest celebrations of the year within Tibetan communities, with festivals and rituals spanning a 2 week period. Tibetans traditionally clean their homes thoroughly during this time, and seek to resolve disputes, to begin the New Year fresh. They may paint auspicious Buddhist symbols on their walls or doors. One day of the 3-day kickoff to the festivities is reserved for visiting friends and family, and another for visiting monasteries and offering prayers. A variety of celebrations and Buddhist rituals and practices are also conducted during this time.
In the astrological system shared by the Chinese and Tibetans, the animal for each year (in 2014, the horse), element (in 2014, wood), and 'gender' (in 2014, male) are each calculated separately. Each represent a rotating cycle of energies, and with 12 animals, 5 elements, and 2 genders, there are a total of 120 different possibilities.
In general, individuals born in a Horse year are seen as independent, quick-acting, determined, noble, and at times hot-tempered. They are also usually very social - sharing the horse's preference to be part of a herd - and are charismatic. They can be impulsive, but often their instincts are solid, and the combination of this, their determination, and their social nature make them successful leaders in their chosen endeavors.
Years of the Horse share many of the same characteristics - they are considered active years, with many significant events in the public sphere. They are normally years of growing optimism, and of group action - large groups of people may come together to act on what they believe. Trends may tend towards independent thinking, not necessarily outside the box creatively, but focused on self-determination rather than social acceptance. Horse years also are known to have a streak of unpredictability to them, so it's not always possible to see around the next curve in the road.
Predictions on a public level for 2014 are very similar. Group actions of all types should have a special energy this year, and it is a good time to follow-through on ideas that arose during the more introspective Year of the Snake in 2013. It is also an auspicious time for breaking through obstacles on all levels. However, the aspect of unpredictability might make it a bumpy ride at times, with things turning out much differently than they originally appear they might. The fact that 2014 marks the end of an element clash in this system (wood and horse are considered compatible, unlike water and snake) indicates the ultimate outcome of most endeavors will be positive.
Because of the Horse association with quick action, instinct, and success, this is potentially a very good year for business, especially for those who are able to see and act upon current trends.
In terms of spiritual practice, this is a year for action, following last year's focus on introspection. It is also a good year for spiritual community, so starting or recommitting to a meditation practice and/or a sangha are both good uses of the energy available this year. The 'yang' focus (since the gender energy is male) also makes it a good time for karma yoga practice - selfless service to others as a spiritual path. The one warning for this year is related to the Horse propensity towards impulsivity, which can become destructive. Striking the right balance between following intuitions and making well-considered choices is key. Inquiry practice will help keep impulses grounded and centered in compassion.
You Should Also Read:
2014 Buddhist Holidays


Related Articles
Editor's Picks Articles
Top Ten Articles
Previous Features
Site Map



Follow @mommymystic
Tweet



Content copyright © 2022 by Lisa Erickson. All rights reserved.
This content was written by Lisa Erickson. If you wish to use this content in any manner, you need written permission. Contact Lisa Erickson for details.