Will Punxsutawney Phil see predict that winter will continue for six more weeks? Or will the marmot in Alaska predict an end to winter is near? Or will the hedgehog see his shadow underneath a clear moon?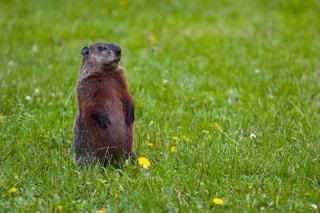 groundhog, public domain
Groundhog Day
is a holiday I know everyone has heard of, but I still think it is kind of unusual. Probably the only reason it is known so well is that it gives everyone something to look forward to on an otherwise bleak and dreary winter day. On this day, the groundhog supposedly awakens from his winter nap, climbs to the top of his home, and takes a peek outside. If he sees his shadow (and this will always happen on a sunny day), then he turns around and goes back in his den to sleep because it means there are six more weeks of winter to endure. If he doesn't see his shadow (and he never will see it on a cloudy day), then he plays around outside for a while because spring is just around the corner.
On this day, all eyes are on Punxsutawney Phil, the weather-predicting groundhog in Punxsutawney, Pennsylvania. Will he see his shadow or won't he? And does what he predicts matter one way or another? If he doesn't come out of his hole, will time stop and the weather stand still as it waits on him?
Marmot Day
is an Alaskan holiday. There are no groundhogs in Alaska, but there are marmots. To be honest, I had no clue what one of these animals was, but I found out that a marmot is a member of the squirrel family and very closely related to the groundhog. I wonder if this creature can predict the weather any better than a groundhog?
On February 2,
Groundhog Job Shadow Day
, thousands of workers will have a shadow watching them at their jobs. Who will this shadow be? It won't be a groundhog. Instead it will be young people who are interested in learning how to do that particular job. This is the day that allows young people to shadow a person - scientist, firefighter, paramedic, doctor, lawyer - who works in the career field that they wish to become involved in. Whatever vocation they want to learn about, this is the day to do it as long as that work place is celebrating this holiday by participating.
February 2 is also
Hedgehog Day
. Did you know that the hedgehog was the animal originally used by the ancient Romans to try and predict the end of winter? Hedgehogs just aren't indigenous to America, so he was replaced with a groundhog. There is one other difference – the Romans the hedgehog by the light of the moon to see if his shadow was cast.
Groundhog Day could be used to write an amusing story, or you could turn it into a mystery, a thriller, or even a romance. What would happen if Punxsutawney Phil was kidnapped? What kind of panic would ensue as they tried to locate him? Do they have a replacement groundhog hidden away just in case of such an emergency, or is Phil not so easy to replace? Does the mayor of the city receive a ransom note for him? And if he does, how does he react? Do they recover this beloved groundhog? If so, who is responsible for getting him back? If not, how do they deal with losing him?